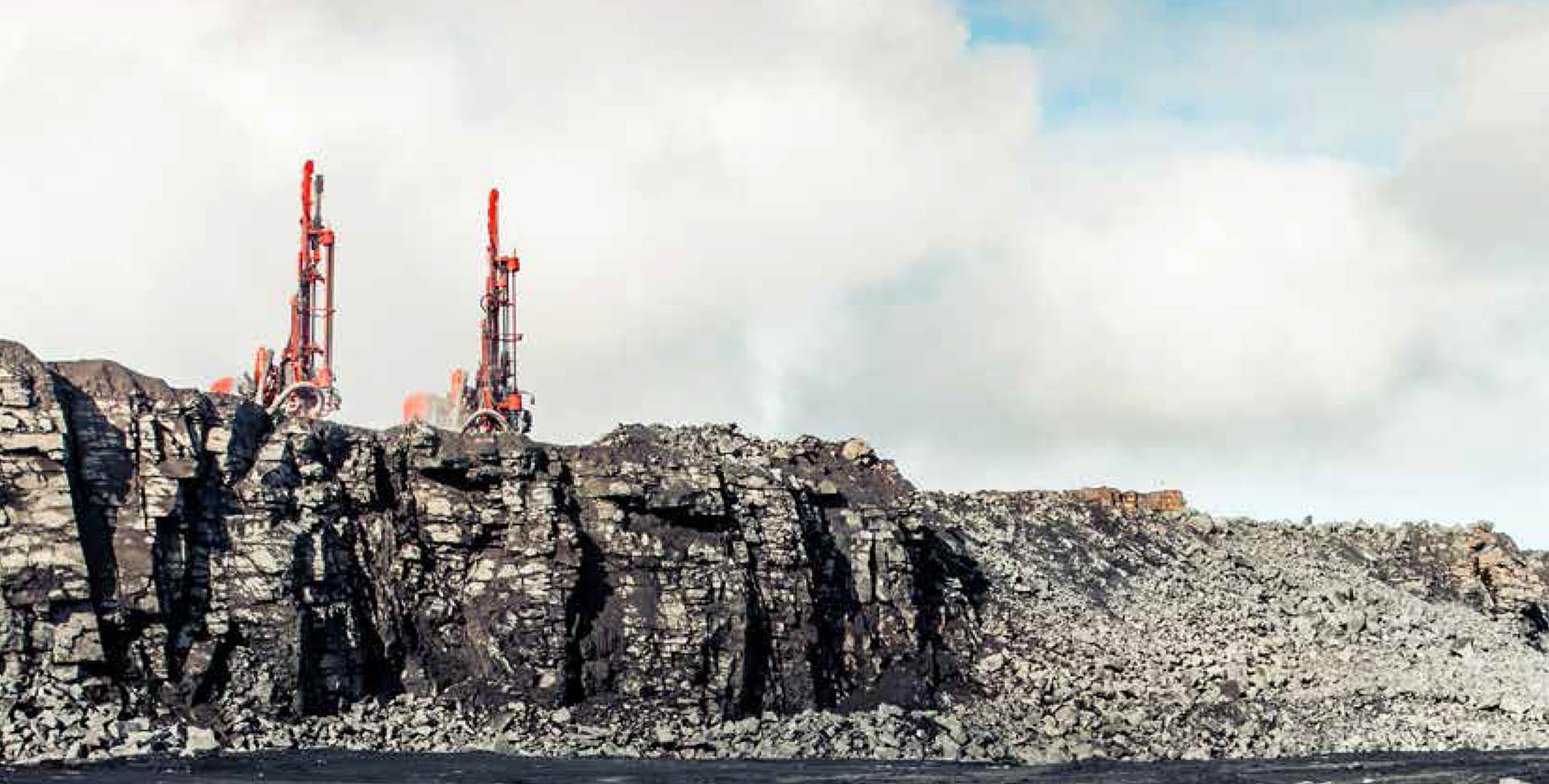 DTH DRILLING – HERE'S THE LOW-DOWN

Drilling holes in the ground is never completely trouble free, as anyone who's worked with DTH knows.
However well-prepared you are, there can always be surprises in store a few metres down. Still, there's a lot you can do to make life easier. And we are committed to helping you.
When it comes to drilling, we know what you're up against. That's why we put such a big focus on R&D,
making hammers and bits better and better all the time. And that's also why service and support are top priorities for us.
What we do goes beyond advanced metals and high-tech products. It's about know-how.
We've been working with DTH drilling for many years. We know the applications, we know the challenges,
and we know how to get the best setup whatever the conditions. So here's a bit of know-how for you right here and now. Instead of just printing a products and parts listing, we wanted to share some insight.
The tips you'll find on these pages are things I've learned on job sites over the years. It's not rocket science,
but then we're not building rockets.
I hope they're a good starting point anyway. Got questions or need ways to drill better? Call Sandvik and use our know-how.

Happy drilling!
Henrik Paues
---
---
~ HASSLE-FREE DRILLING STARTS WITH THE BASICS
Many potential problems in down-the-hole drilling can be avoided by taking care to get the basics right.
It comes down to the right tools and settings for the conditions, and proper care of equipment.
Here are my tips for drilling further without hassle.
---
RIGHT FACE
First off, choose the right face design for the type of rock and your drilling priorities (e.g. tool lifetime, penetration rate, etc).
Flat face works well for most rock conditions and is especially good in fractured, fissured and mixed rock formations.
Concave face is the most straightforward to operate and another good all-rounder,
as well as being particularly suited to deep hole drilling with high accuracy.
Convex face gives a high penetration rate in softer to medium-hard rock.
---
---
RIGHT BIT
One of the most important issues when it comes to bit selection is choosing a bit large enough to allow cuttings
to get around the hammer and out of the hole.
An undersized bit will slow you down, as well as creating backpressure that shortens the life of carbides.
It's also important to start with the right carbide, bearing in mind that the tougher compounds can extend the lifetime of the bit
by 2-5 times depending on the conditions.
XT48 works for most drilling conditions and should be the first choice if there's any uncertainty about the rock type.
DP65 is the right choice for hard, abrasive conditions, and DP55 in ballistic configurations gives fastest overall drilling in softer to medium-rock.
---
---
RIGHT SETTINGS
Two of the biggest challenges in DTH drilling are feed pressure and rotation.
To get feed pressure right, gradually increase until you reach maximum operating air pressure.
You now have optimum feed pressure and do not need to increase further.
When it comes to rotation, it's all about finding the happy medium.
Too slow and productivity suffers.
Too fast and you get excessive carbide wear. But there's an easy way to find the right speed, using
just the air pressure gauge on the drill and a stopwatch!
First, gradually accelerate until you get an increase in penetration rate.
Continue until the penetration rate no longer increases. You have now reached optimal rotation speed.Carbide wear gives a good clue to rotation.
The wear should be centered. A worn leading edge indicates too high rotation speed.
A worn trailing edge indicates the speed is too low.
---
---
QUARRYING: THE RIGHT SETUP IS EVERYTHING
Holes are relatively shallow in quarrying applications, and accuracy is essential. That demands a good setup.
The drill needs to be centered, with the correct angle as required by the drill and blast program.
Build the hole for the first few feet so it stays open and nothing falls in. Stock the hole with water injection to build a collar.
Once you reach competent ground, you can go to full feed pressure, air pressure and rotation.
If you're using multiple drill rods, cover the lower rod when adding a new one to keep contamination out of the hammer.
---
---
CONSTRUCTION: SIZE REALLY DOES MATTER
In construction applications, the holes can be anything from 3 inches to 30 inches. The most common error is trying to drill too big a hole for the hammer.
A 6 inch hammer is good from 6.25 inches to about 8 inches. Above that, you need a larger diameter hammer.
Using a bit that's too big for the hammer results in bit failure, slow production, and a lot of frustration.
A great many of the drilling stoppages on construction sites are due to running out of fuel, oil or water.
Always do a walk-around and check supplies before turning the drill on.
---
---
WELL DRILLING: NOT ALL ROCK DRILL OILS ARE THE SAME
One of the big problems here is the use of cheap lubricants that don't meet the specification for rock drill oil.
Make sure whatever you're injecting into the airstream is what your manufacturer recommends.
The requirements are determined by ambient temperature and operating air temperature.
Another key factor is the water injected. This needs to be neutral or somewhat alkaline in order to prevent corrosion.
When the hole is finished, flush the hammer out with clean air and lubricate all parts to maximize lifetime.
After-drilling maintenance is critical for deephole applications.
---
~ EXTENDING LIFETIME
Our DTH hammers and tools are designed to give an outstanding service life. Give them proper care and they will still be going when others have long given up.
---
HAMMER MAINTENANCE
Maintaining a hammer requires strict attention to safety due to the size and weight of the equipment and its parts.
Remember also that even this tough piece of equipment can be irreversibly damaged by bad maintenance practices.
• It is important to read the safety
procedures in the operator's manual before
assembling/disassembling the hammer.
• Always keep the hammer in the proper position
to avoid heavy parts falling out.
• Use a proper assembly stand to ensure the
hammer and its parts do not fall or roll over.
• Always use tongs with jaws that place a uniform
load on the outside diameter of the hammer.
• Never grip the hammer with pipe wrenches
or other wrenches that could deform or damage
the hammer.
• Always place tongs on the body of the bit, not on
the carbides.
• Do not apply heat to the piston case to remove
the driver sub or the top sub.
STORING
Never allow a hammer and bit to remain overnight in a hole that contains water or mud.
The corrosive action caused by these conditions may seriously damage the hammer.
Follow these points to protect components from rust and ensure the hammer is always ready for use.
• Disassemble the hammer completely.
• Thoroughly clean and repair all components.
• Reassemble the hammer immediately keeping
joints loose.
• Coat the entire hammer inside diameter with a
light film of rock drill oil. Coat all the threads
with thread grease.
• Install thread protectors.
• Seal each end of the hammer to keep dirt and
dust out.
• Always store the hammer in a suitable
protective container in a dry location.
• Place a protective cover on the bit to prevent
foot valve breakage.
• Always store the bit in a dry location.
• Before storing the hammer overnight or over
a weekend, clean the hammer by blowing
lubricated air through the system and insert
rock drill oil into top sub. Push the check valve
dart open with rounded end drift pin to ensure the oil
inlet to the hammer.
~ CONTINUOUS IMPROVEMENT
We constantly work on refining the technology in our hammers and bits to help you do more and ensure you experience fewer problems.
Every innovation is there for a reason – to remove the hassle in DTH drilling.
---
POWER YOU CAN DEPEND ON
Our RH460 hammer is designed to give performance you can trust without question. However tough the conditions, it simply won't let you down.
That's what innovation means to us. We have reduced air consumption for lower fuel costs, boosted power for higher productivity,
and optimized lubrication for longer piston and hammer life.
FUEL - SAVING DESIGN
Lower air consumption means lower fuel costs. The air cycle of the RH460 hammer optimizes the expansion and compression rate,
giving more power with less air.
---
ROCK SOLID
The V-lock system is designed to prevent the movement of the inner cylinder and air distributor, reducing galling-related failures.
This simple design means no tools are required for assembly or disassembly. The steel make-up ring creates a constant make-up force,
independent of temperature and time.
---
SMOOTH RUNNING
The special oil grooves in the RH460 piston ensure constant and consistent lubrication between the piston and internal parts
to reduce galling related failures. They are also designed to help to minimize air leakage.
---
NO VIBRATION
The piston bearing surface is designed and located for better bearing capabilities.
It eliminates bending vibrations, which can result in galling failures.
~ ZERO TOLERANCE OF FAILURE
We combine our R&D focus with a commitment to solving our customers' challenges. Spending a lot of time out on site helps us gain a deep understanding of these challenges.
The end result: solutions that really work.
---
FROM DESIGN TO TESTING
Seemingly random premature fatigue failures in the drill bit have long been an occupational hazard in rock drilling. But not any more.
We set our development team the task of solving the mystery. Working closely with customers, they got to the bottom
of this industry-wide issue and solved it with a new drill bit design.
The challenge was that these failures could occur at different stages in the drilling and under differing conditions, with no clear reason for it to happen.
We were determined to find the answer. To tackle the issue the team worked on the entire process, from design to testing with customers.
The first step was to investigate where the cracks initiated in the bit.
---
---
EFFECTIVE SIMULATIONS GAVE THE ANSWER
Our R&D technicians and engineers visited several customers to get a deeper understanding. The Applied Research team then ran calculations
and tested various configurations to reduce stress levels in the drill bit. Using FE analysis for reliable simulations gave a clear indication of what caused the damage.
Our team then worked on a new bit design and carried out extensive testing together with customers.
The results were excellent. The original bits had an average service life of 1,500 metres, but we aimed to achieve 3,000 metres with the new design.
In fact, the new bit design reached an astonishing average of 6,900 metres on the same drill sites.
The new design proved so effective that it will be adopted across the product range.
~ MASTERING CEMENTED CARBIDES
Cemented carbides are a key to efficient and productive drilling. Whatever you're doing, we can ensure the right grade for the task.
We are a world leader in research and development for cemented carbides. That knowhow goes into every bit you order.
---
MATERIALS EXPERTISE
We continue to develop new hard material alloys to meet today's industry challenges. Tool performance is crucial when you're dealing with harder rock and mineral formations.
The cemented carbide insert material's resistance to wear and fracturing is particularly important.
Dual Property (DP) cemented carbides are our patented grades. Their properties are tailored to suit drilling conditions causing exceptional load or cemented carbide wear.
---
---
GRINDING OF CEMENTED CARBIDE
Grinding or heating a cemented carbide product will produce dust or fumes of hazardous ingredients that can be inhaled, swallowed or come in contact with the skin or eyes.
Cemented carbide contains two hazardous components: cobalt and tungsten carbide.
Cobalt may cause sensitization through inhalation or skin contact. Inhalation or skin contact may also cause irritation. Sensitive persons may experience an allergic reaction.
Long-term inhalation of high concentrations may cause permanent respiratory disease.
XT48
Sandvik's stadard cemented carbide grade for most drilling conditions.
XT48 should be your first choice, especially when drilling in rock that is not fully known.
Spherical XT48 inserts are optimized to withstand high load and wear.

DP55
This grade has wear resistance similar to XT48,
but offers greater toughness.
It is especially suited to ballistic inserts, accommodating the higher loads the insert may be exposed to because of the longer protrusion.

DP65
DP65 has similar toughness to XT48, but considerably higher wear resistance.
This grade should be your first choice when drilling in very abrasive rock with large spherical inserts.
~ TROUBLESHOOTING GUIDE
Some of the most common problems encountered in DTH drilling relate to rotation, feed force and bailing. Use this checklist as a starting point for troubleshooting.
---
SYMPTOM:

• Excessive vibration and high-pitched noise in the drill string
• Low penetration rate
• Joints become loose causing excessive heat generation and galling
• Premature failure of the bit (button pop-outs, excessive gage wear
& rapid wear to the bit shank)
• Premature failure of the hammer (rapid wear to the driver sub splines)

POSSIBLE CAUSE:


Feed force too low


SYMPTOM:

• Drill string rotation becomes labored and uneven
• Noise from the drill string
• Low penetration rate
• Bending stress failures
• Wear to all drill string components increases
• Jamming increases

POSSIBLE CAUSE:


Feed force too high


SYMPTOM:

• Jerky rotation
• Excessive vibration

• Low penetration rate
• Finer drill cuttings
• Increased bit wear (especially on leading edge of buttons)
• Button pop-outs
• Rapid wear to the bit shank and driver sub splines.

POSSIBLE CAUSE:




Rotation speed too low


SYMPTOM:


• Excessive vibration
• Low penetration rate
• Higher bit wear (especially to gage row buttons and adjacent
bit body steel)

POSSIBLE CAUSE:




Rotation speed too high


SYMPTOM:

• Jamming increases
• Low penetration rate
• Accumulation, and re-drilling, of cuttings in the hole
(finer drill cuttings)
• Increased bit wear
• Increased wear to the hammer, drill pipes and bit body

POSSIBLE CAUSE:




Incorrect bailing velocity
~ HAMMERS THAT DRIVE PRODUCTIVITY
Sandvik hammers combine high power and speed with low fuel consumption. They are tried and tested in demanding applications the world over.
---
RH350
The RH350 is a lean and dependable hammer based on a well-proven design. This hammer works with various industry-standard shank designs. The RH350 is suitable when drilling holes with a diameter of 244 mm up to 900 mm.
RH460
The new RH460 hammer has been developed with a focus on improving reliability and economy through cutting air consumption, increasing power and improving lubrication. It gives higher impact energy with lower levels of air consumption, giving high productivity in variable ground conditions.
RH510
The RH510 is the first choice for drilling hard and abrasive rocks and is designed for operating pressures from 10-24 bar. It features a patented shank design for optimized energy efficiency, and no foot valve. Models are available with heavy-duty or reversible casings to ensure maximal life in highspeed drilling applications in abrasive rock formations.
---
~ DRILL BITS THAT TAKE YOU FURTHER
Whatever conditions you're dealing with, Sandvik DTH drill bits make the job easier. They are fitted with our proprietary cemented carbide tips, which are designed to drill further.
The drill bit bodies are made from precision hardened nickel molybdenum steel, with a compound curve shape for faster and smoother cutting and easier removal of cuttings.
Our well-proven button bit designs are trusted by customers around the world. The bits in the new range have an optimized head length with maximized steel support for the cemented carbide buttons,
deep face grooves for excellent flushing and an aggressive cutting structure.
~ DRILL PIPES
Our drill pipes are built for a long life. We leave nothing to chance – welds are inspected using ultrasound to ensure a high-strength product. These pipes are specifically engineered to work with our hammers.
In addition, we offer complete drill string components tailored to your requirements, from air swivels, hammers and bits, to complete drill rig solutions.
~ SPECIAL SYSTEMS AND ACCESSORIES
---