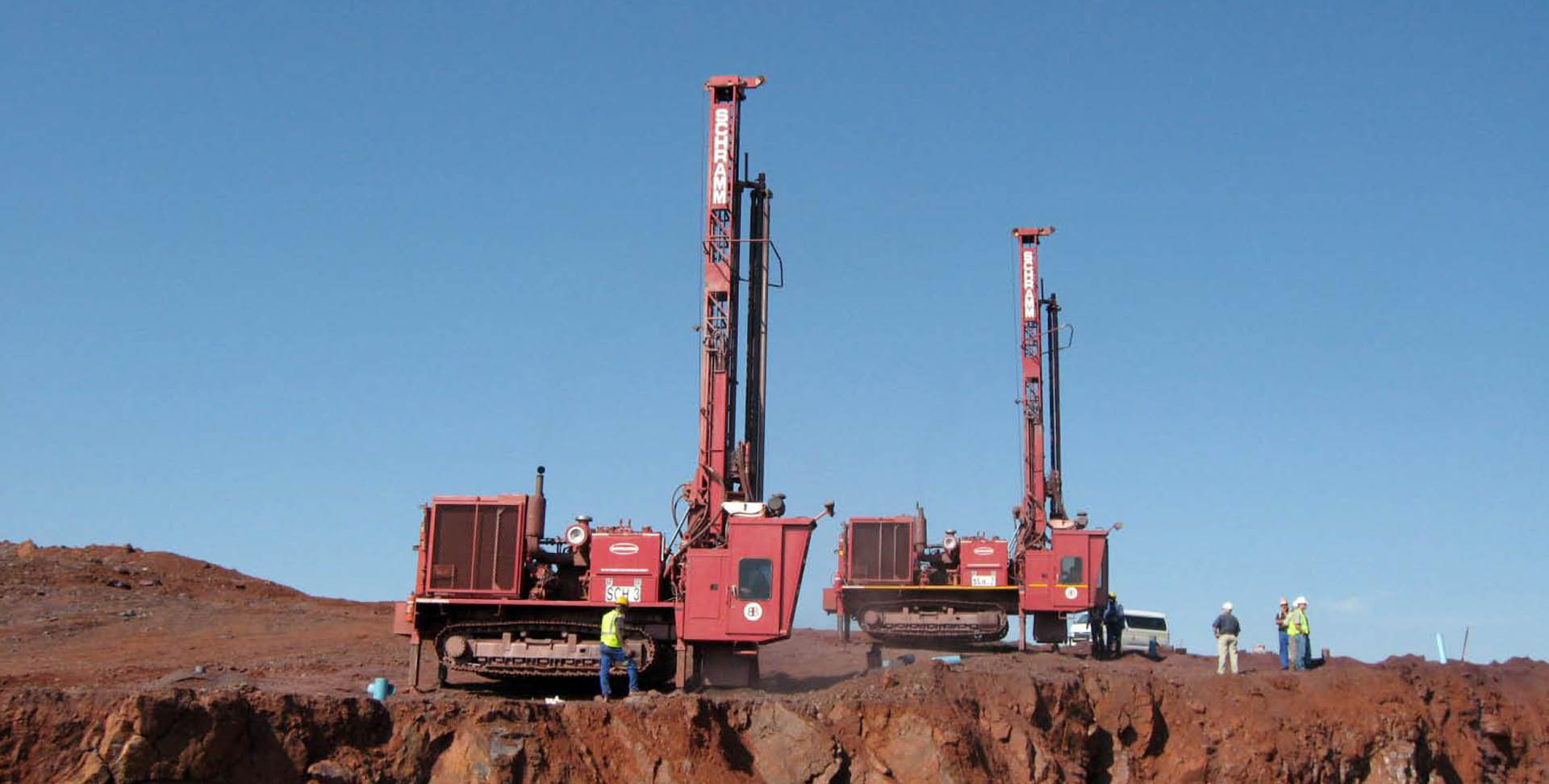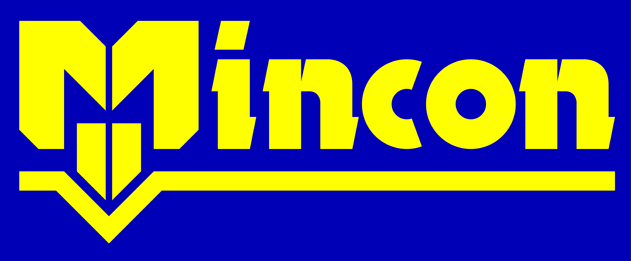 Introduction
Mincon has been a significant contributor to the drilling industry since its inception in 1977. As a "values" built company our customers and our people are at the forefront of everything we do. The communities that we interact with are important to us and we continually make all efforts to foster close and sustained relationships. For nearly 40 years Mincon has been producing quality DTH tools and has garnished a strong, reliable reputation along the way. When choosing your DTH tools, there are a multitude of considerations to make to ensure you have the best combination of hammer and drill bit. On top of that, you must protect your investment by ensuring you have the best lubrication program available for your DTH tools. Whether your task is a family water well business, drilling multiple geothermal wells, completing high rise micro pile foundations or major open pit or underground mining operations, Mincon is with you to ensure the work is completed safely, economically and without problem. The confident contractor demands drilling tools that are reliable, productive, economical and available. Mincon excels at all these metrics and offers the contractor peace of mind for their operations. It is the intention of this catalogue to offer Mincon's customers a comprehensive look at everything we have to offer in the DTH category.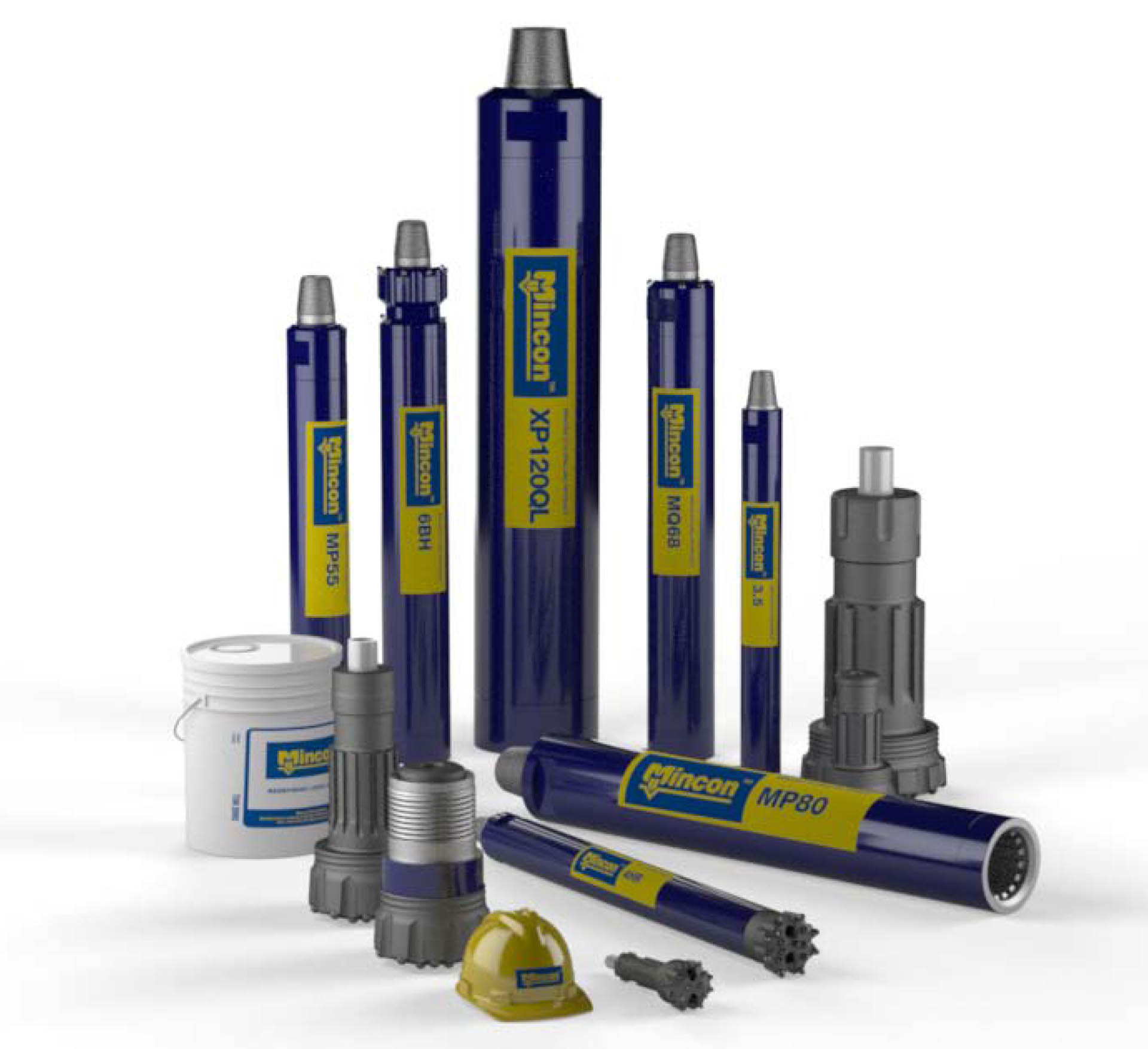 Mincon DTH hammer
2.1 Choosing the Right DTH Hammer
Mincon has a comprehensive range of DTH hammers that are capable of drilling holes from 85mm (3 3/8") thru 610mm (24"). We manufacture our hammers to accept industry accepted drill bit shanks as well as Mincon designed shanks that increase performance and longevity. As with any task, it is critical to select the correct tool for the job. When looking at production blast hole drilling the key to productivity is to minimize the amount of time that your drill rig is not drilling. Down time due to failure of tooling can be one of the most expensive costs for drilling operations. In the last number of years the trend with Drill Rig manufacturers is to offer larger compressors with higher CFM and PSI. This increases the productivity of DTH hammers but also increases the potential for component failure while drilling. Mincon produces world class quality DTH hammers that can stand up to the harshest conditions. It has long been recognized that one of the main components that causes down time due to failure is the foot valve or blow tube as it is also known. The foot valve is a thermoplastic tube in the top of the drill bit that is used to create an air chamber in the bottom of the hammer that is part of the hammer's operating cycle. It is quite common in blast hole drilling to experience spline wear in the chuck and drill bit, especially in broken ground conditions. The net effect of this wear is to allow lateral movement of the drill bit within the chuck. The piston can then strike the drill bit off axis and break the foot valve. This will then cause the hammer to stop drilling. The hammers chuck or drive sub needs to be opened and the drill bit must be changed or remove the broken piece and install a new foot valve. Heat issues can also change the properties of the thermoplastic material that the foot valves are made from and cause problems where the foot valve can gradually come out of the drill bit. To eliminate the foot valve from the drill bit while maintaining high productivity Mincon offers the MC Range of DTH hammers. The MC range includes a patented bit retention system that allows for a fully supported bit in the bit chuck. This provides for a much sturdier shank design greatly reducing the possibility of drill bit shanking. With more spline engagement than a traditional DTH bit the amount of spline wear is greatly reduced when compared to other traditional drill bits. The Mincon MC Range of DTH hammers and Bits are specifically built for applications where high penetration rates are important. This unique design concept provides much greater impact energy and drill performance maximizing productivity in almost all ground conditions. For those that want increased performance without changing to proprietary shanks Mincon has the MQ range of DTH hammers that eliminates the need for the foot valve while maintaining use of the industry accepted drill bits. Another benefit that comes from removing the foot valve from the drill bit in the MC and MC Ranges is a more efficient exhausting of the operating air from the hammer. Removing the foot valve allows the hammer to exhaust from the moment the piston strikes the drill bit. This aids in removing the cuttings from the drill bit face quicker and thus increases the penetration rate. This more efficient exhausting of the hammers operating air also helps greatly when drilling in wet holes where ground water is encountered. Mincon Also offers our production blast hole hammers with retract backheads that incorporate carbide buttons in the backhead to aid in tool retrieval in the case of hole cave ins. For the extreme cases, Mincon offers the backreaming backhead that provides a more aggressive and positive means of breaking up the rock while retrieving the tool.

2.2 MC Range
2.2.1 Mincon MC30 DTH Hammer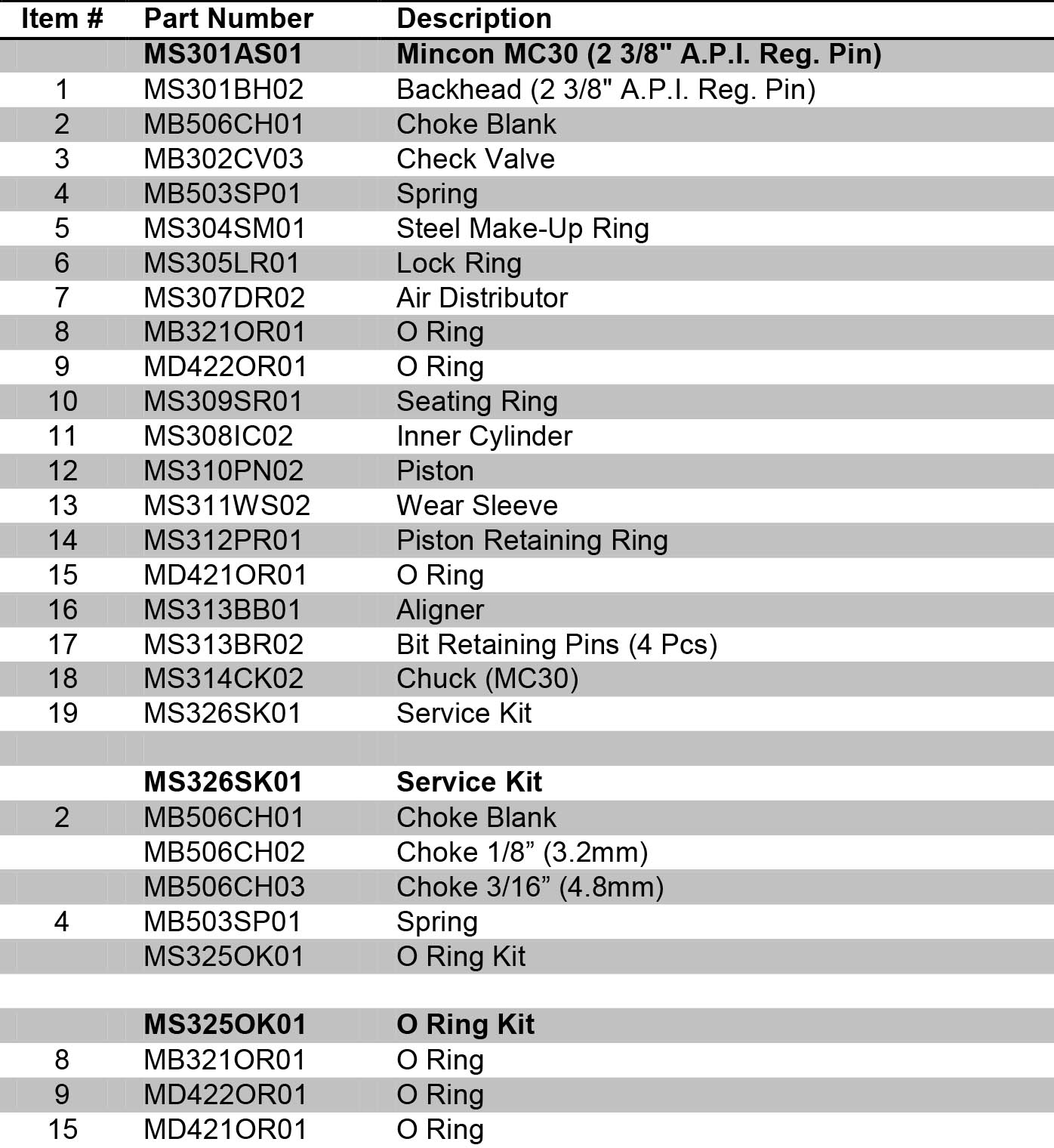 2.2.2 Mincon MC40 DTH Hammer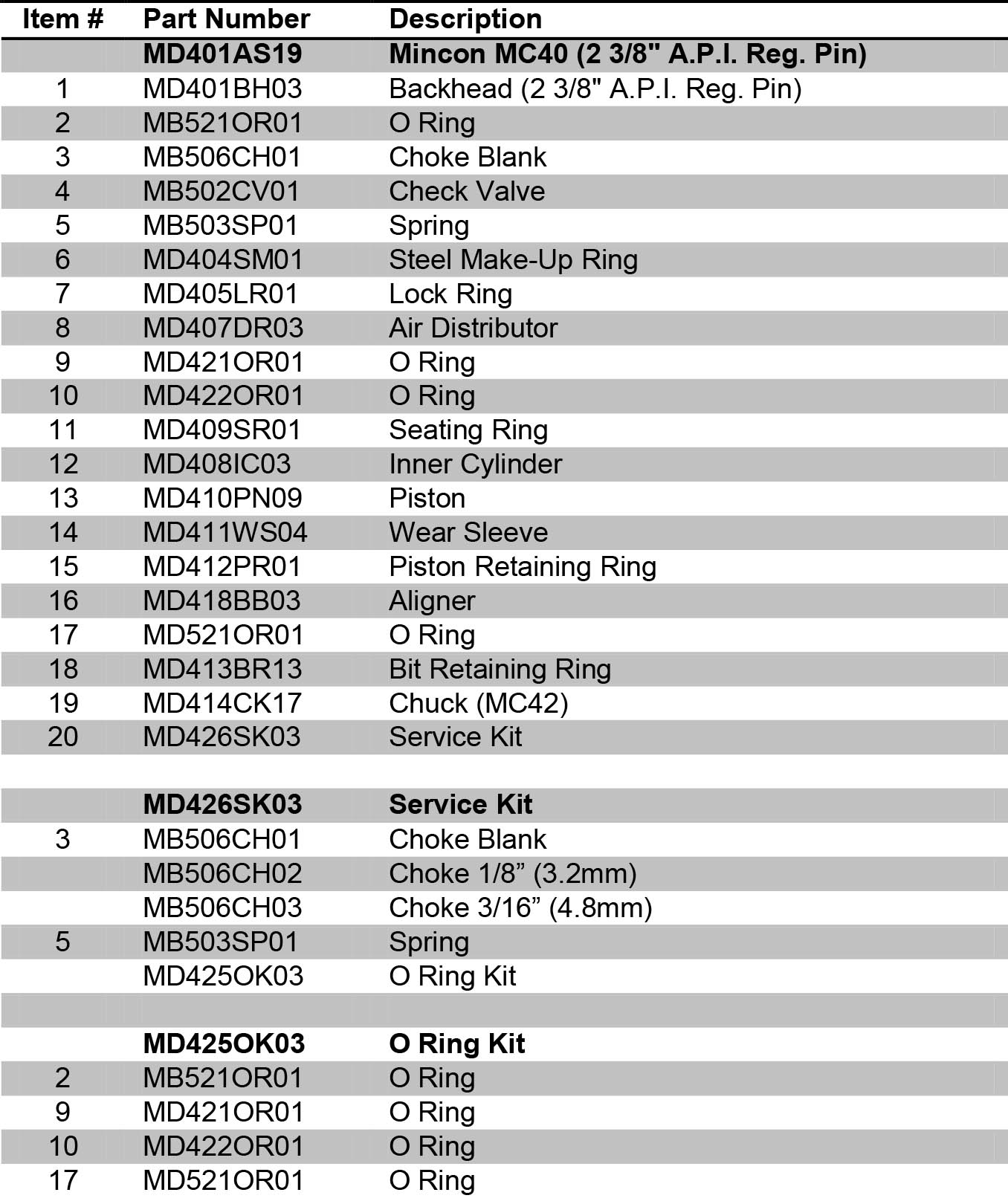 2.2.3 Mincon MC43 DTH Hammer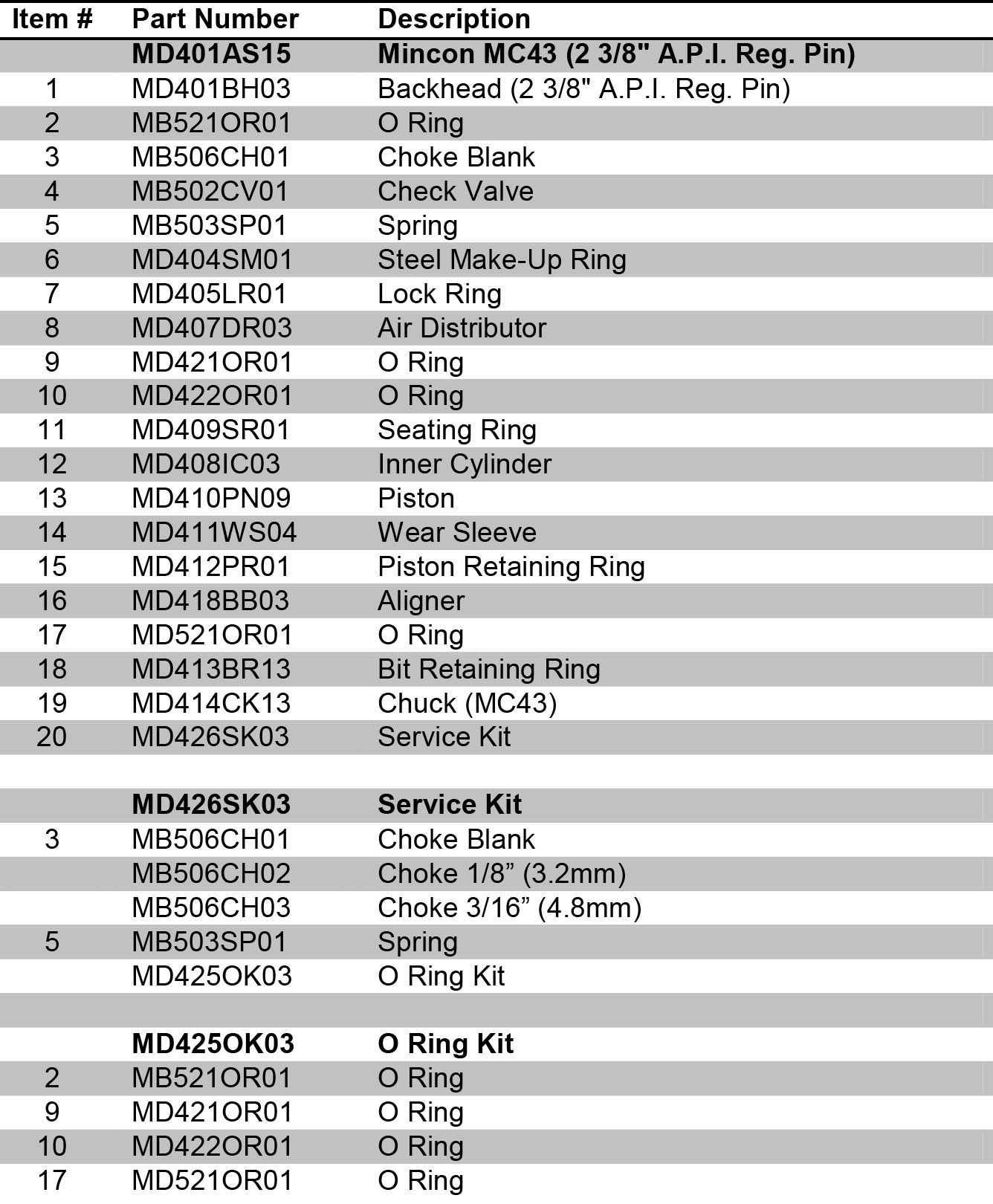 2.2.4 Mincon MC55 DTH Hammer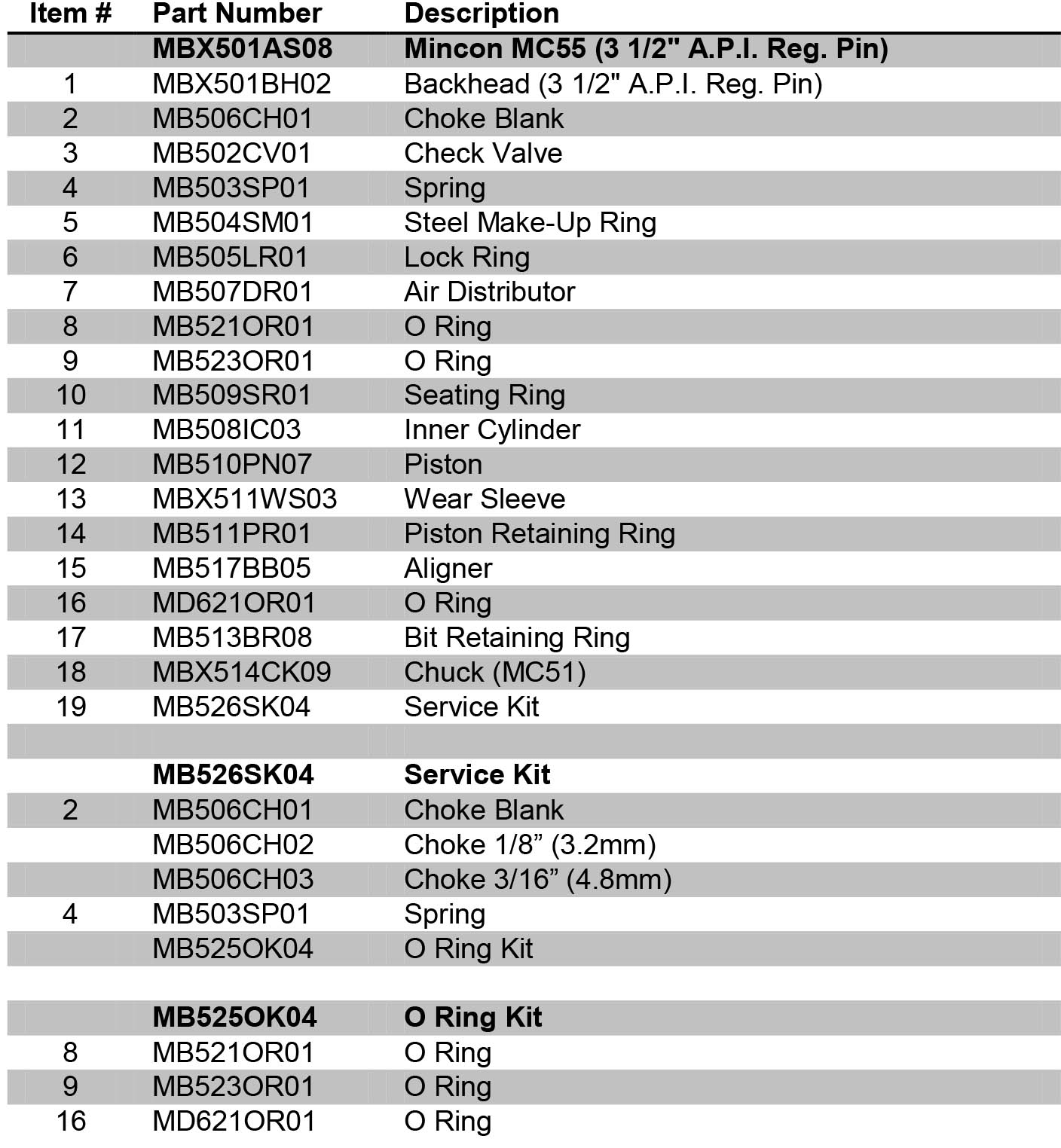 2.2.5 Mincon MC60 DTH Hammer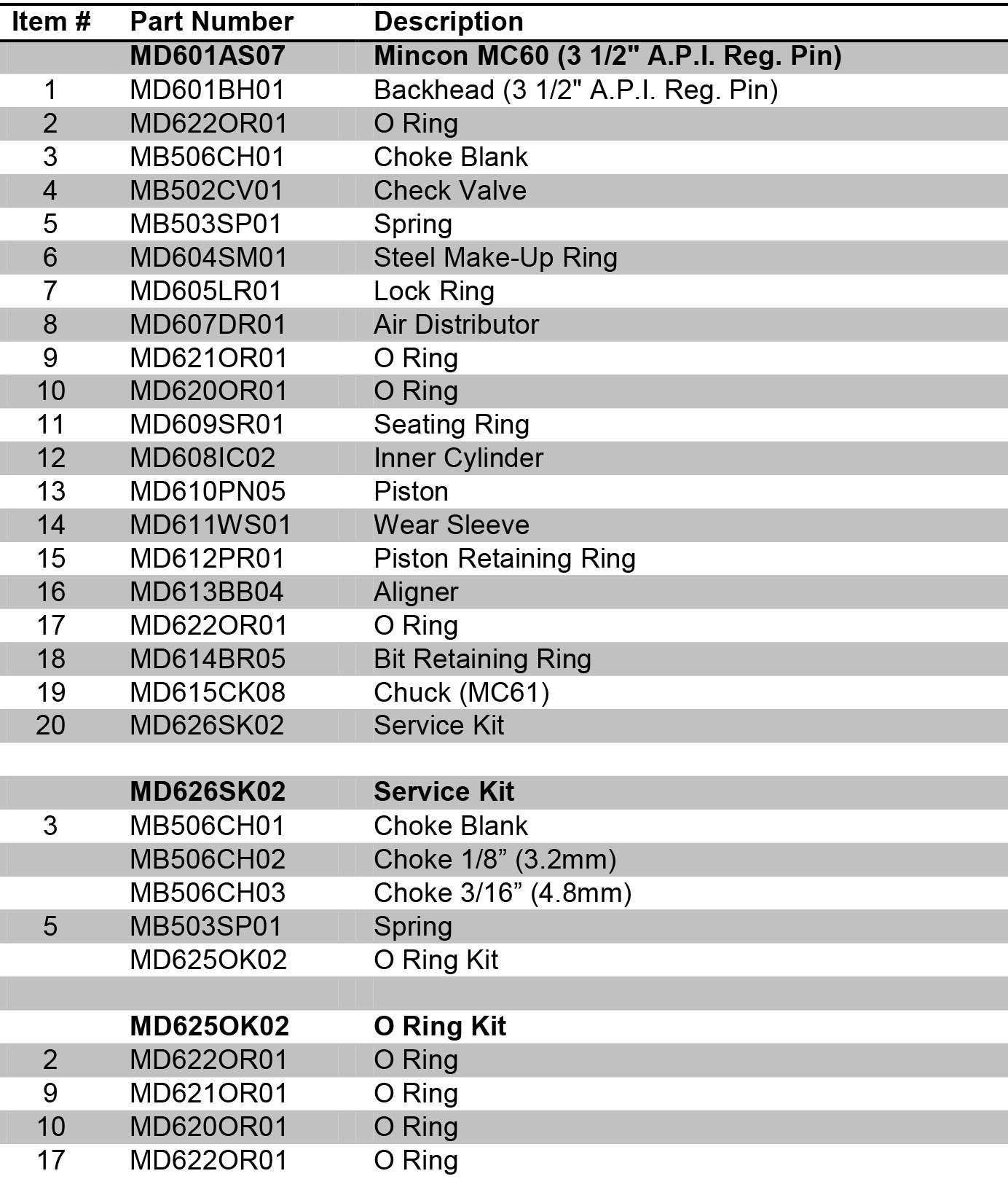 2.2.6 Mincon MC65 DTH Hammer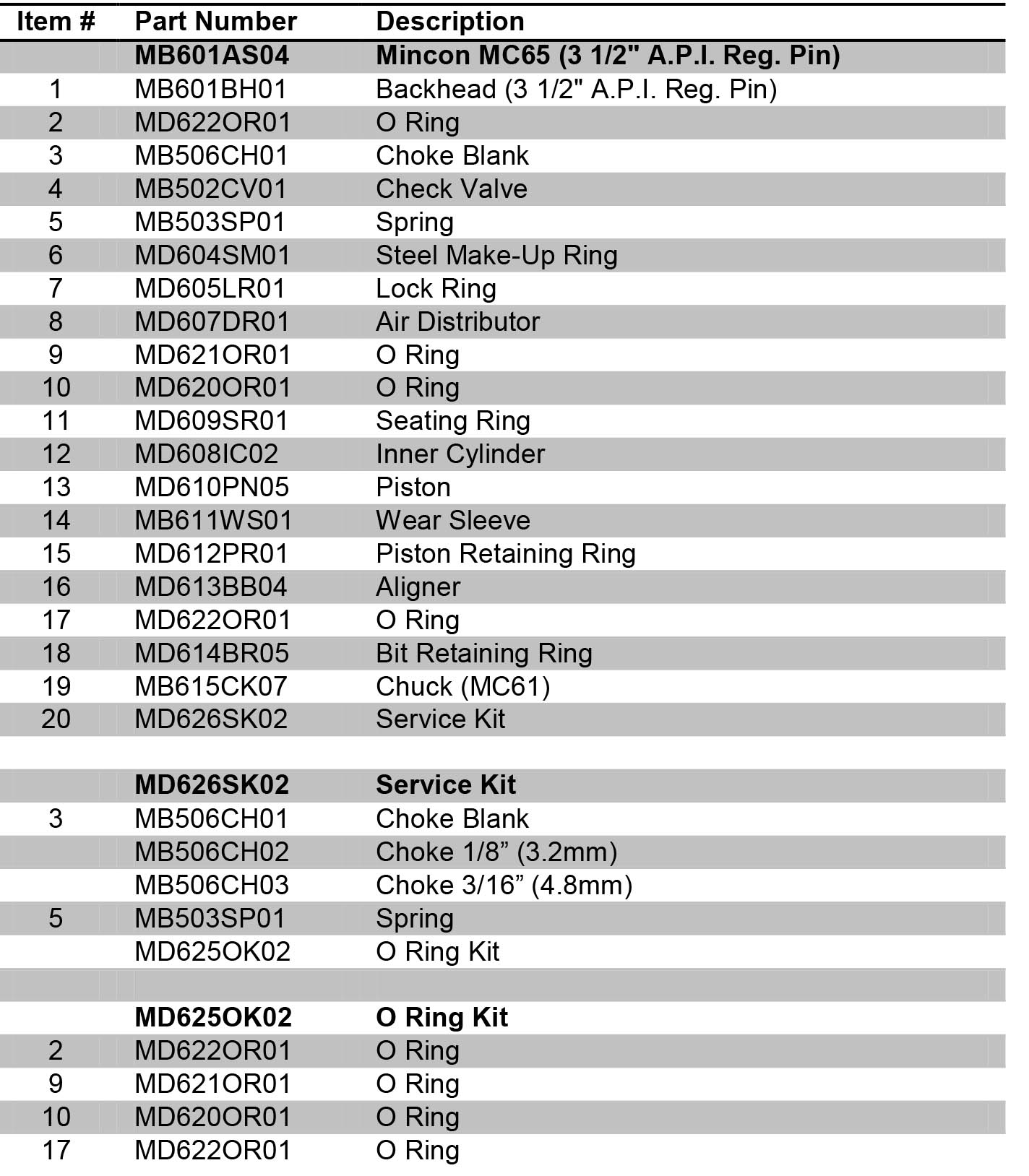 2.2.7 Mincon MC70 DTH Hammer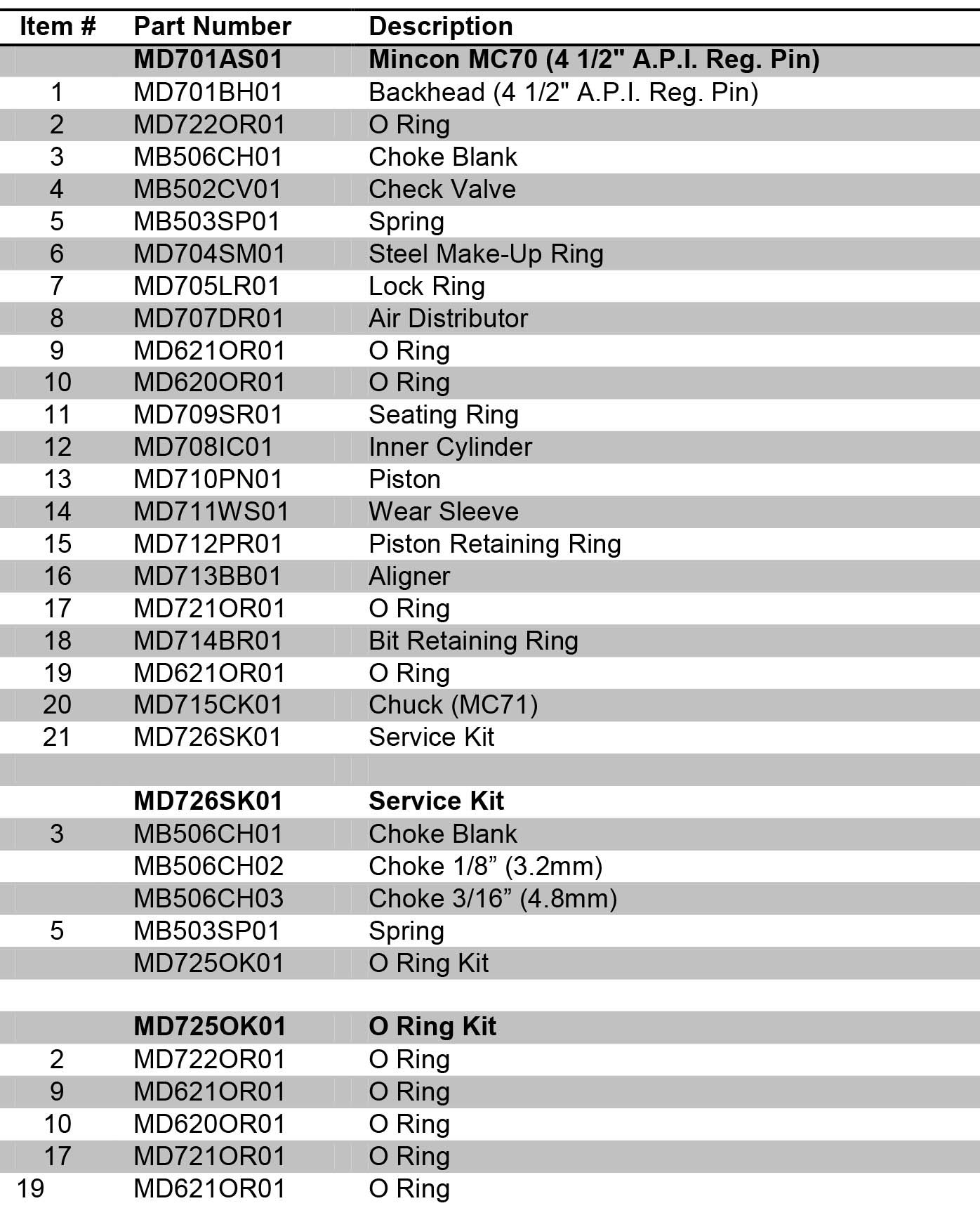 2.2.8 Mincon MC80 DTH Hammer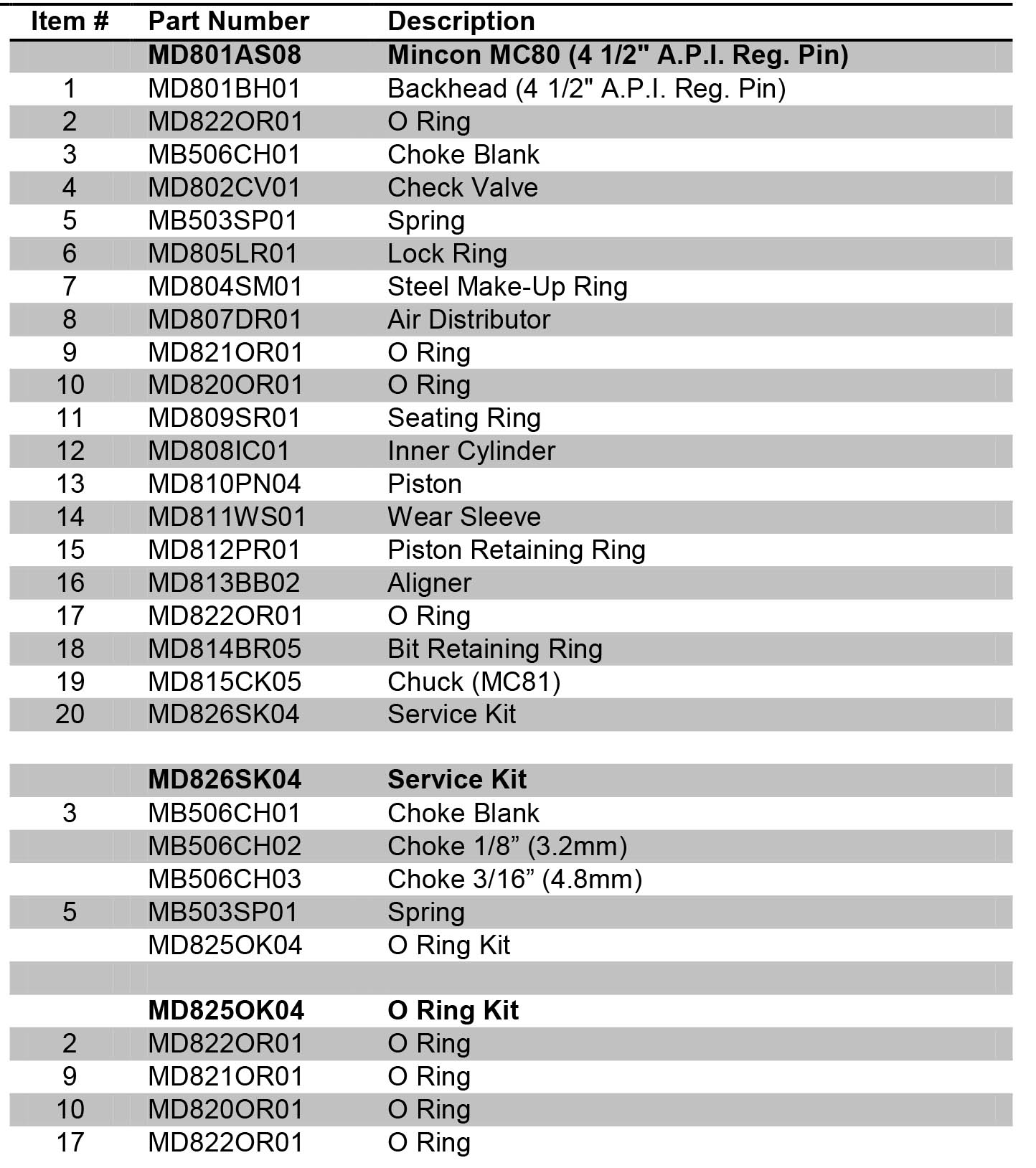 2.2.9 Mincon MC85 DTH Hammer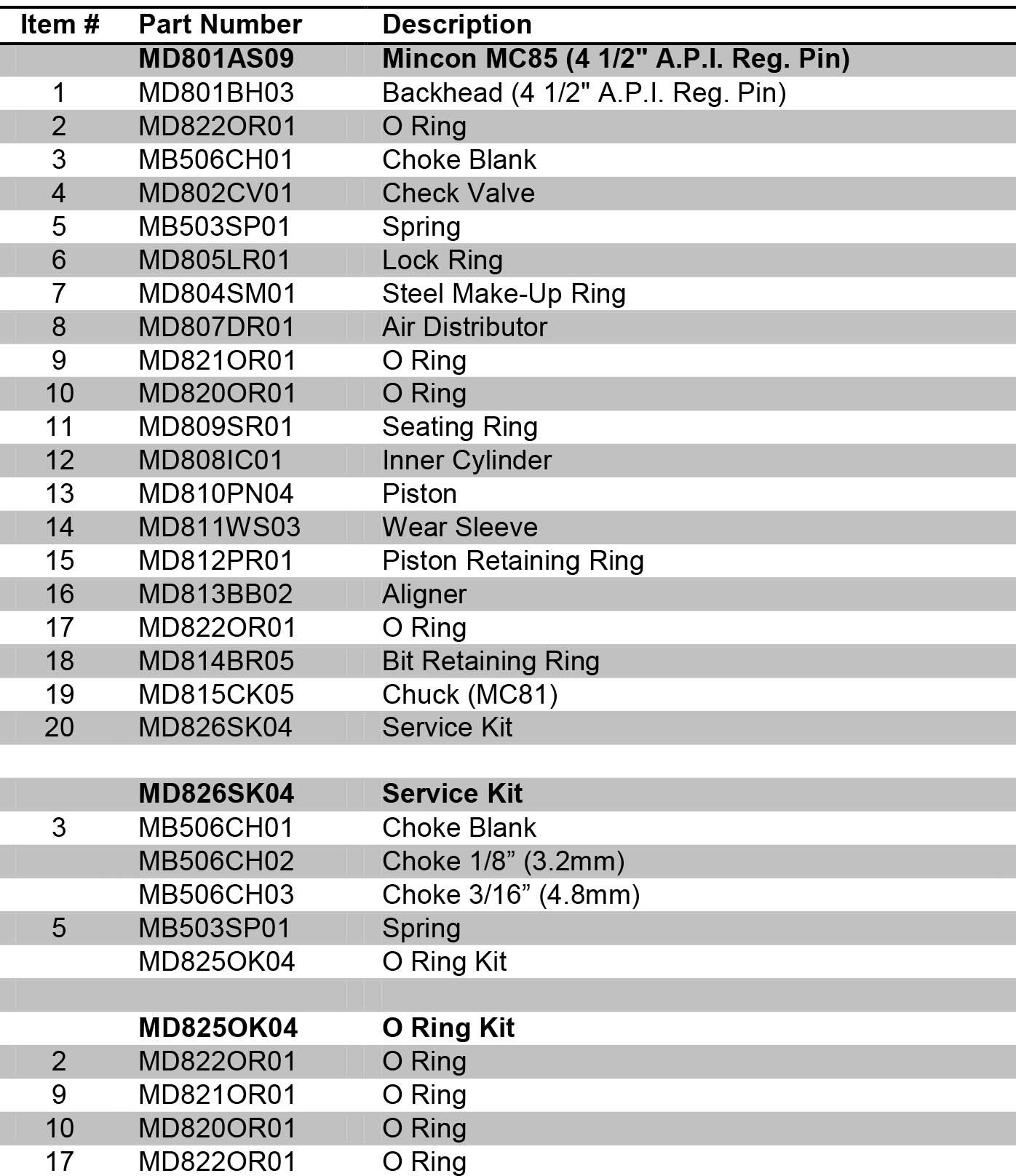 2.3 MQ Range
2.3.1 Mincon MQ40 DTH Hammer

2.3.2 Mincon MQ50 DTH Hammer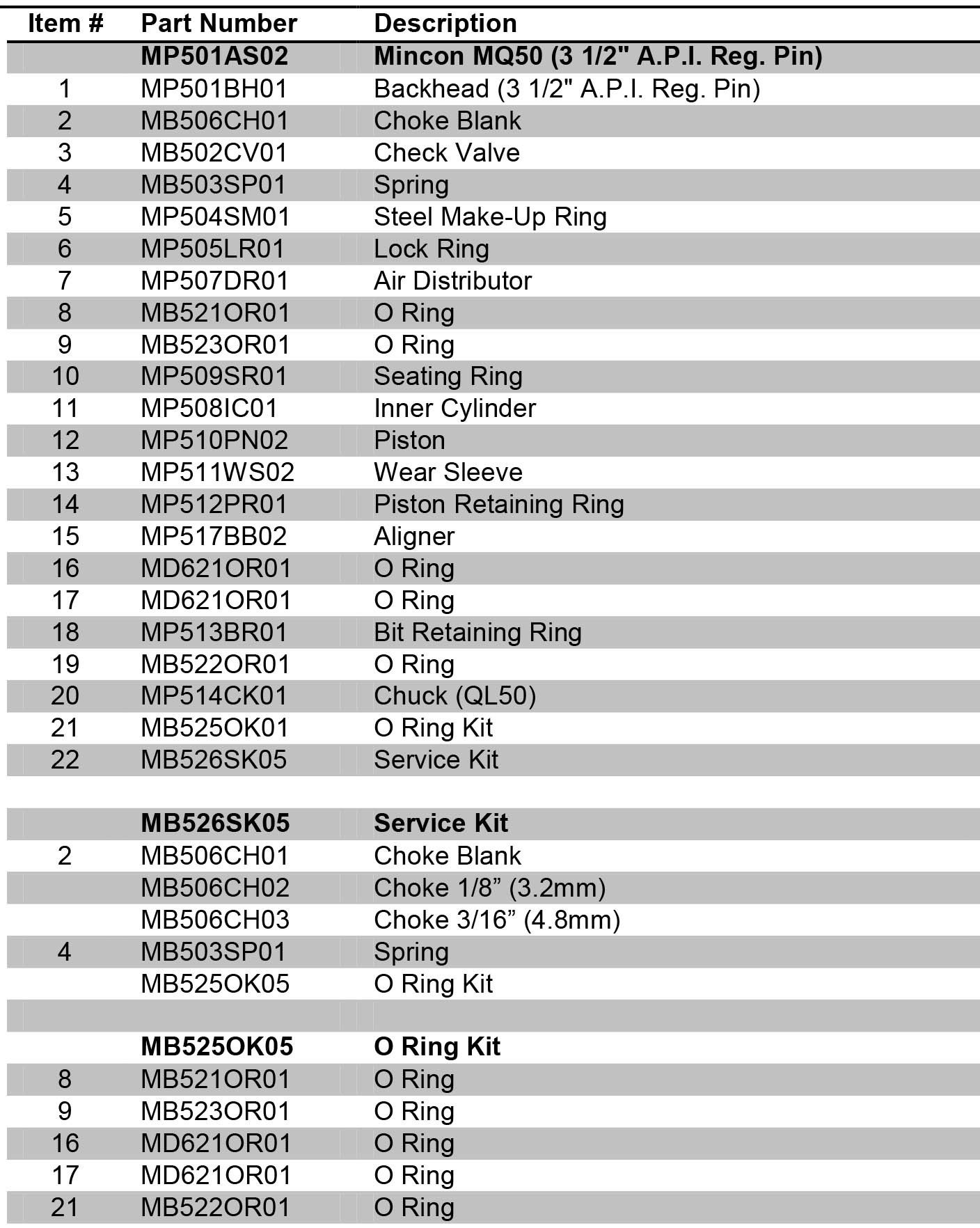 2.3.3 Mincon MQ55 DTH Hammer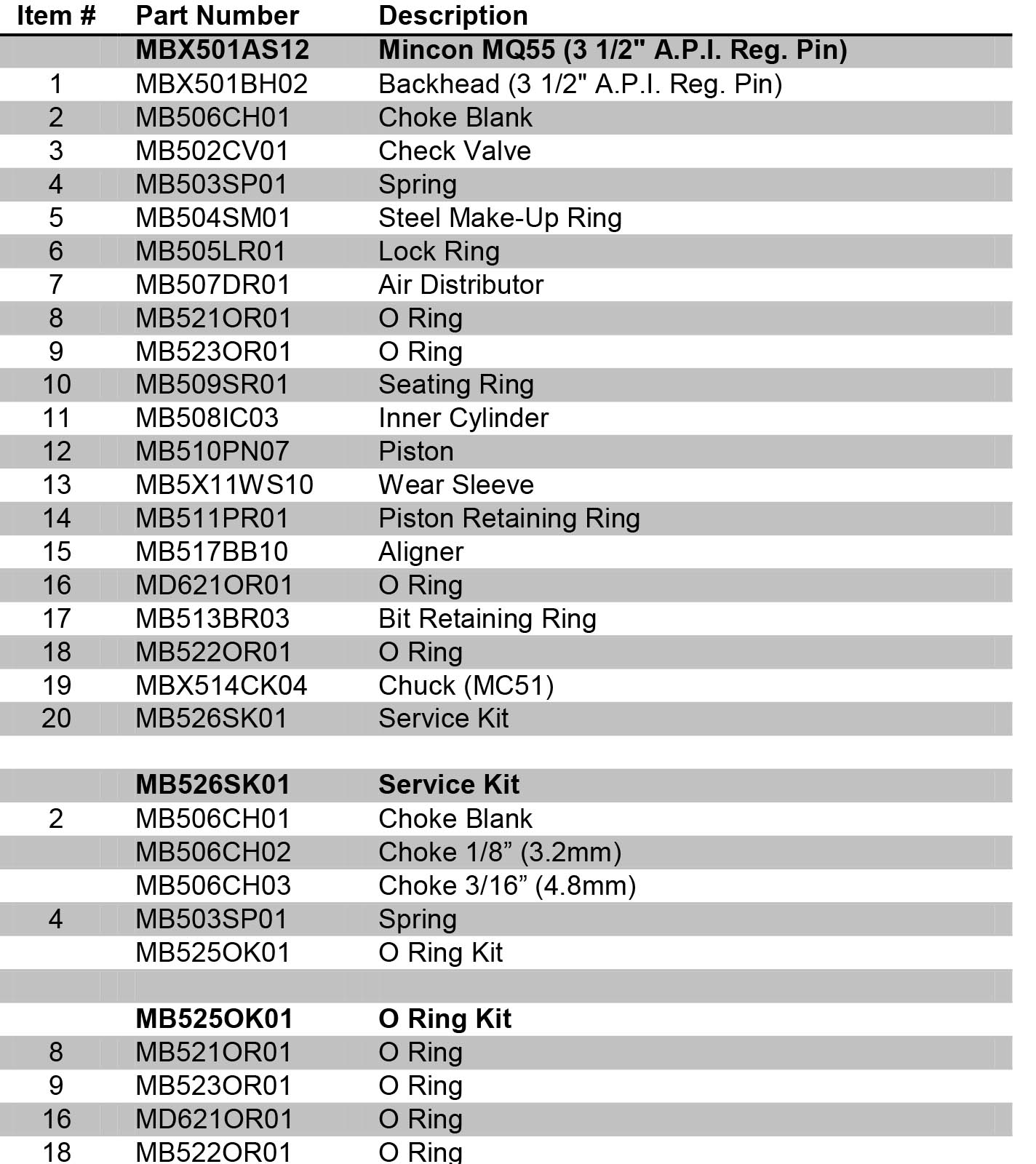 2.3.4 Mincon MQ60 DTH Hammer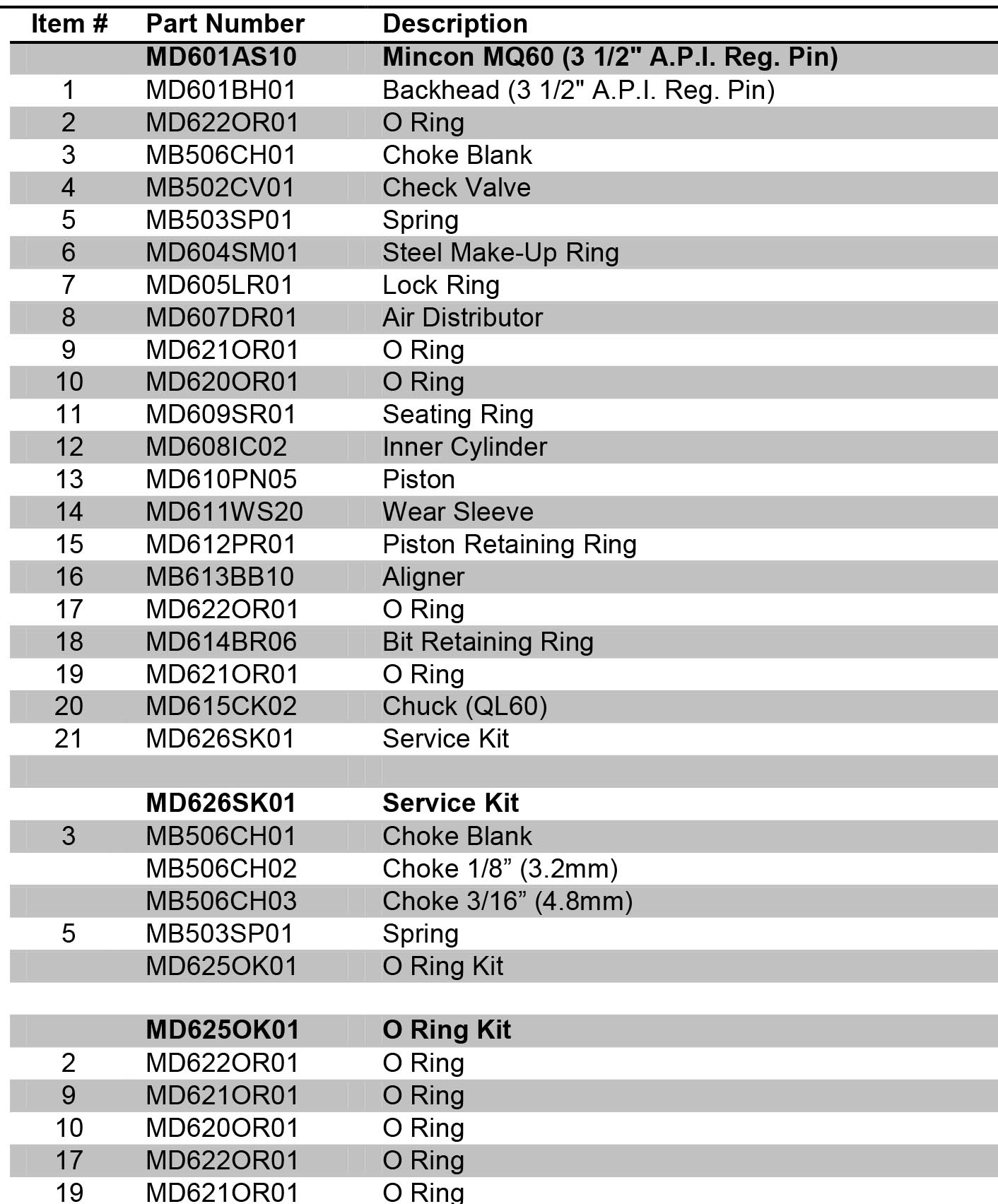 2.3.5 Mincon MQ65 DTH Hammer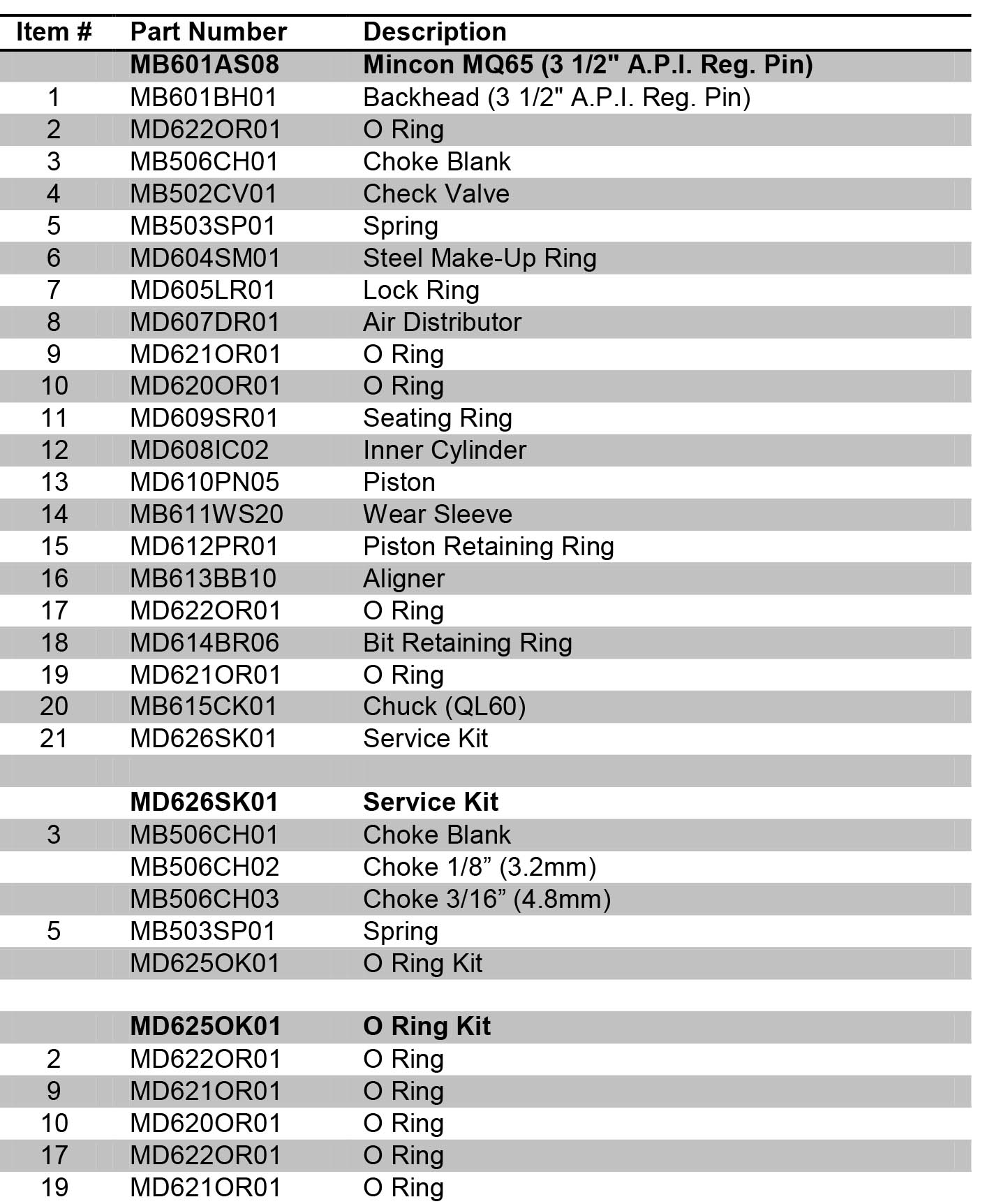 2.3.6 Mincon MQ68 DTH Hammer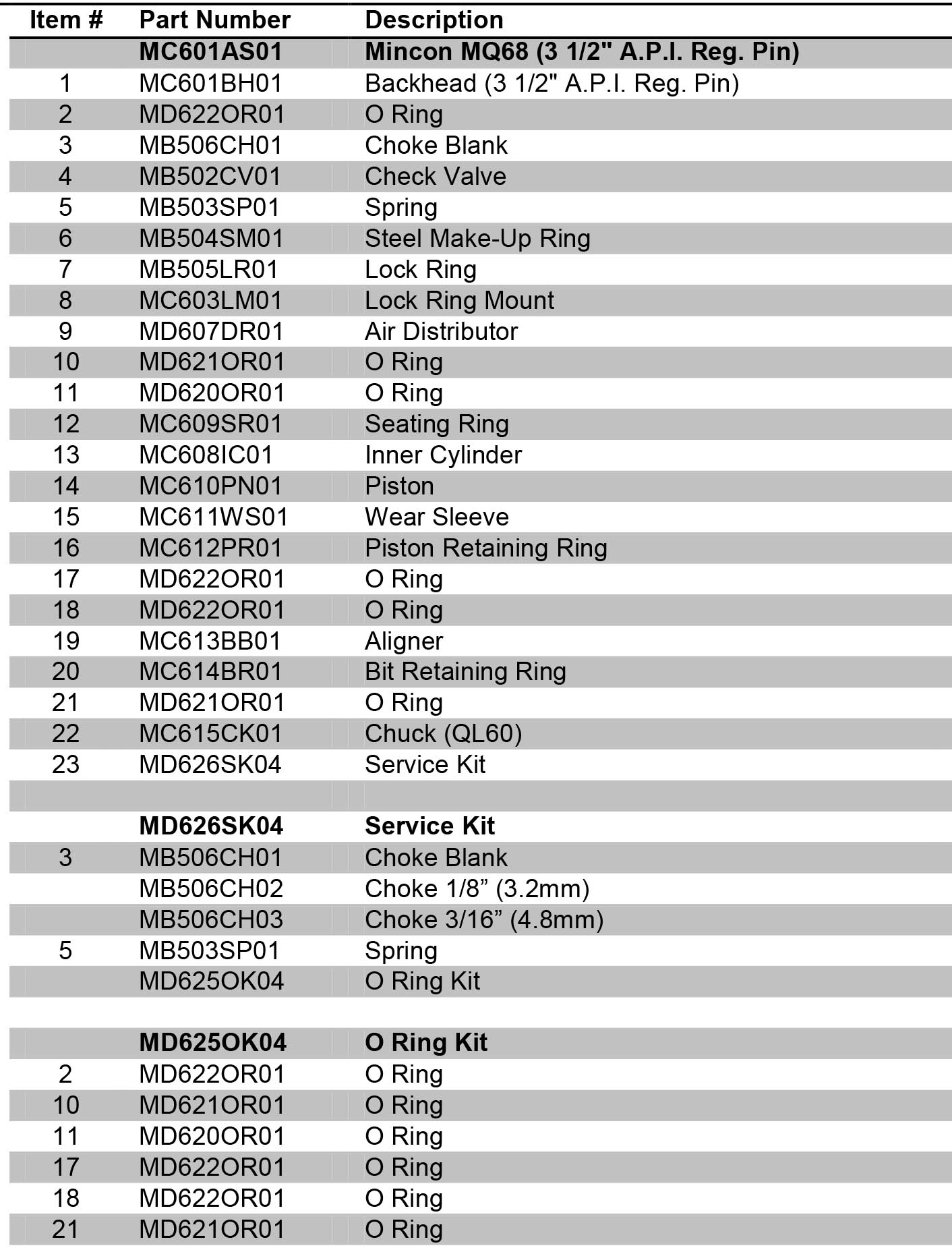 2.3.7 Mincon MQ80 DTH Hammer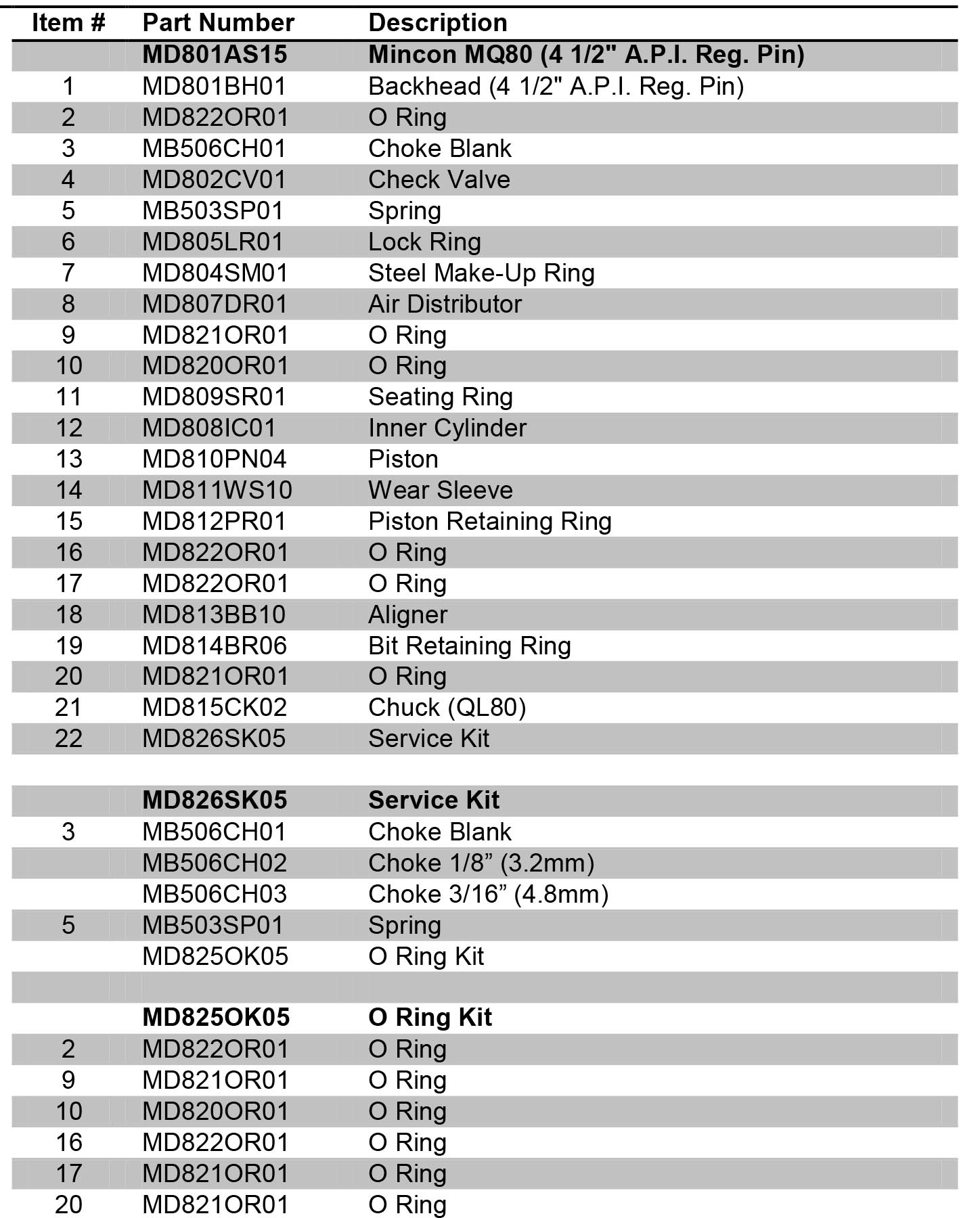 2.3.8 Mincon MQ85 DTH Hammer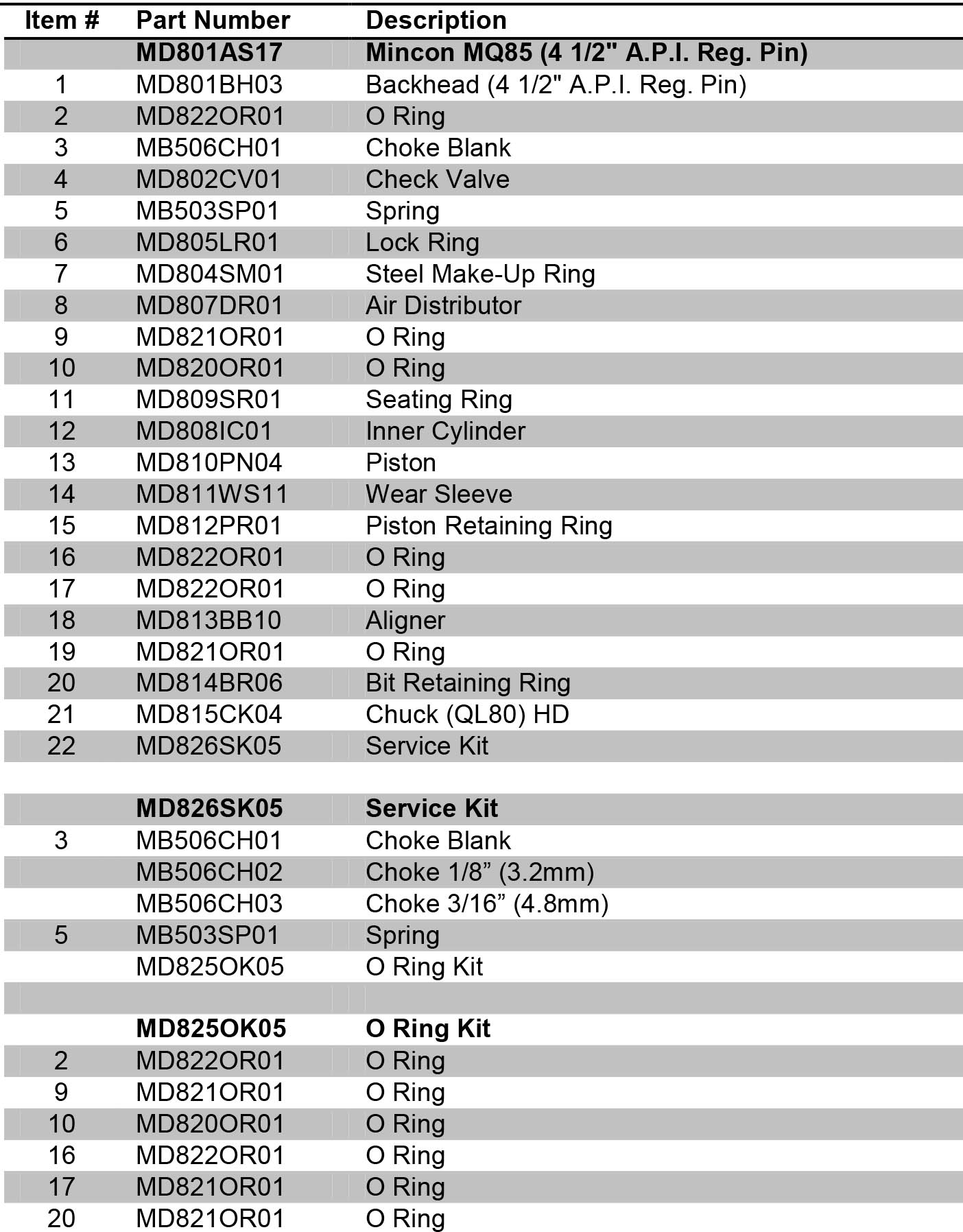 2.4 3" Range

2.4.1 Mincon 3 DTH Hammer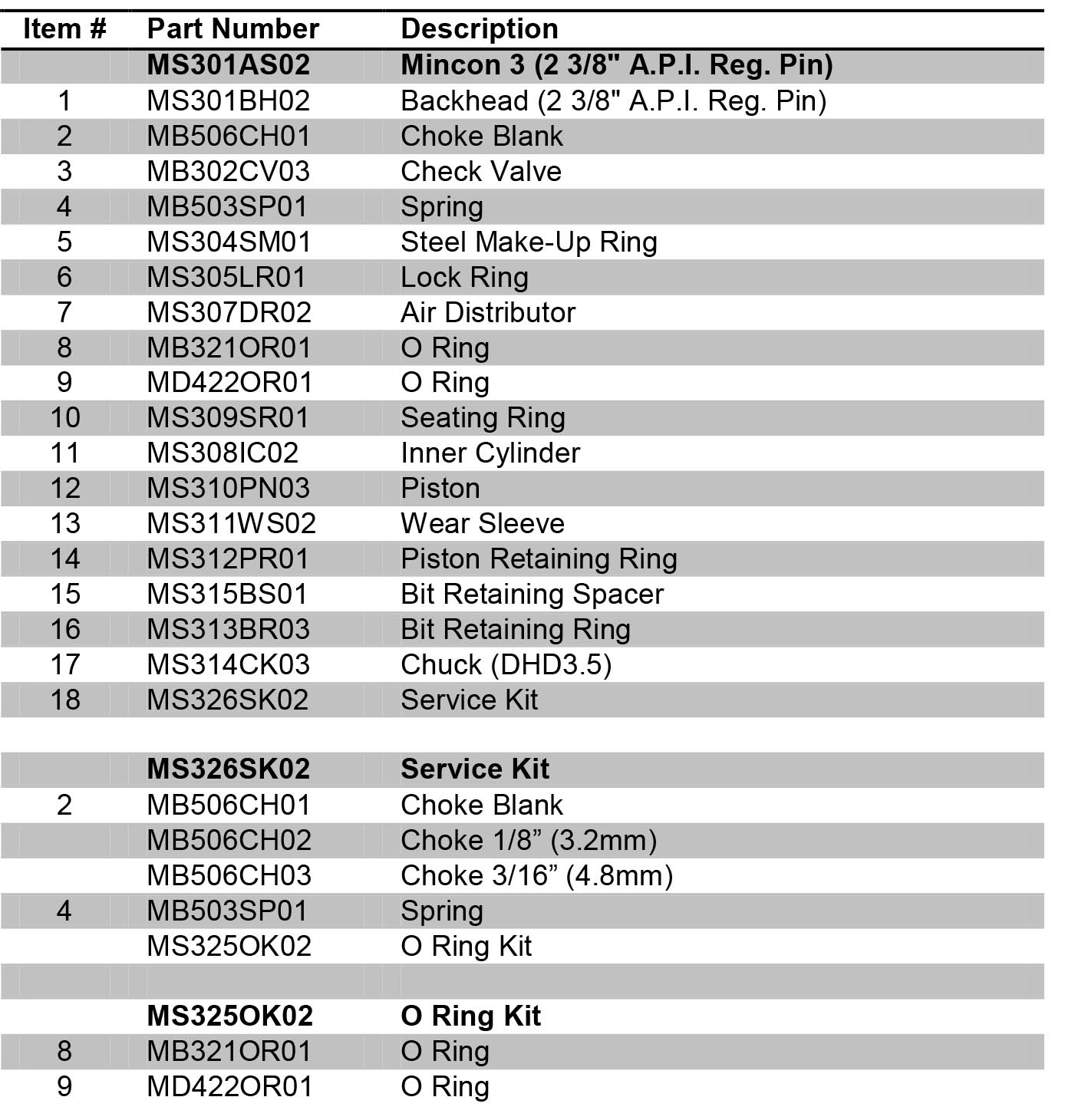 2.4.2 Mincon 3.5 DTH Hammer


2.4.3 Mincon MP35 DTH Hammer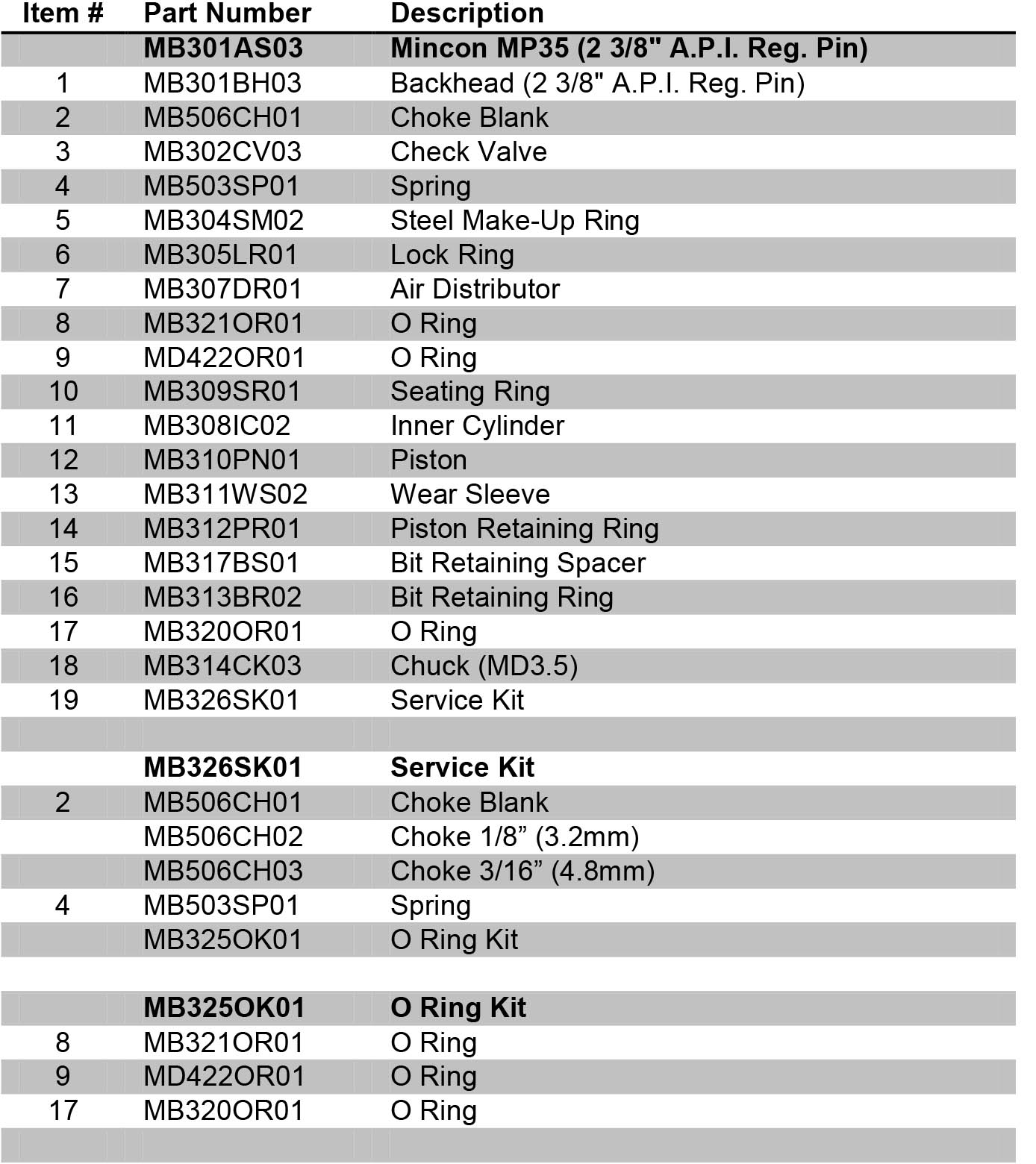 2.5 4" Range

2.5.1 Mincon 4HDS DTH Hammer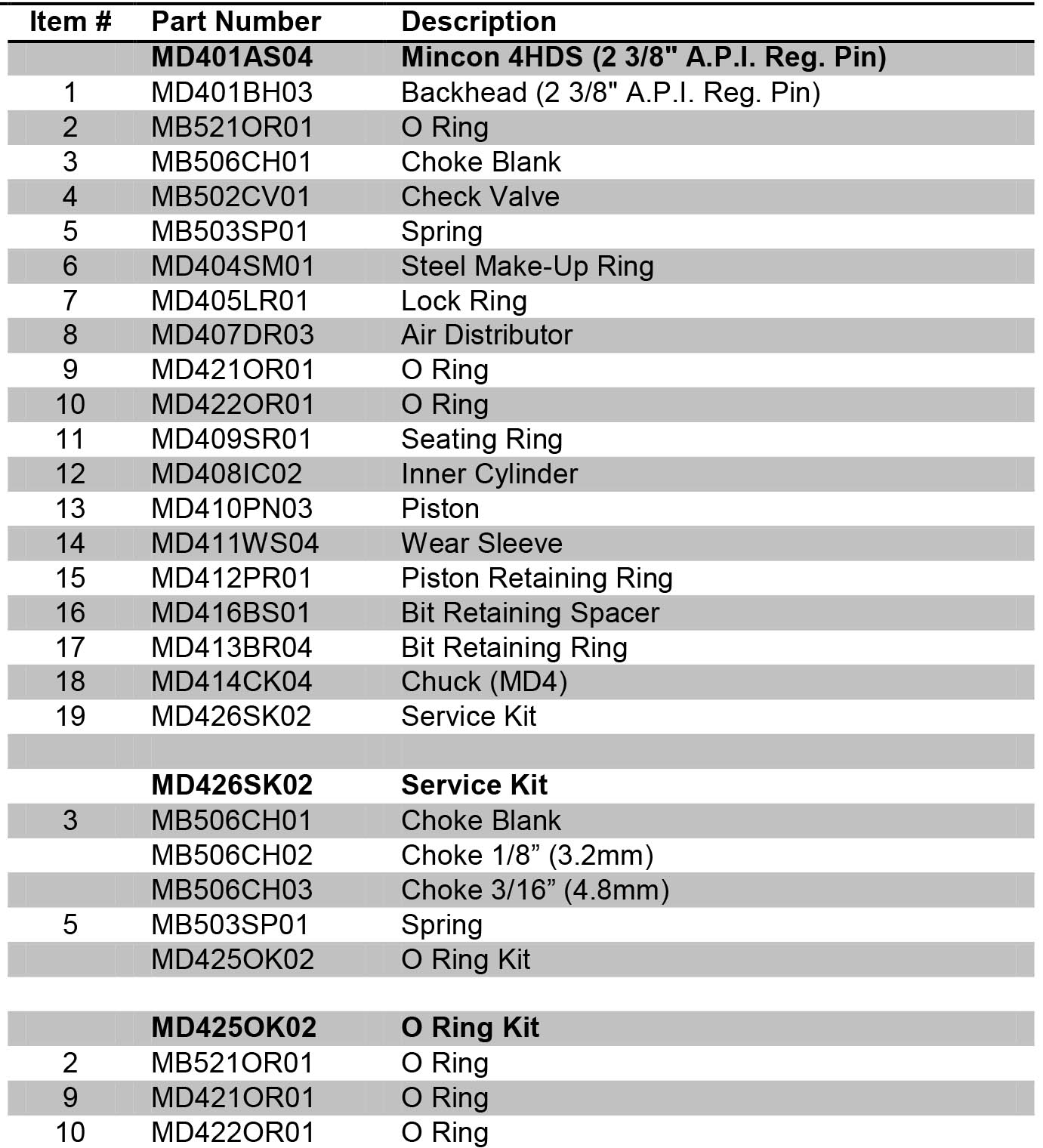 2.5.2 Mincon 4HR DTH Hammer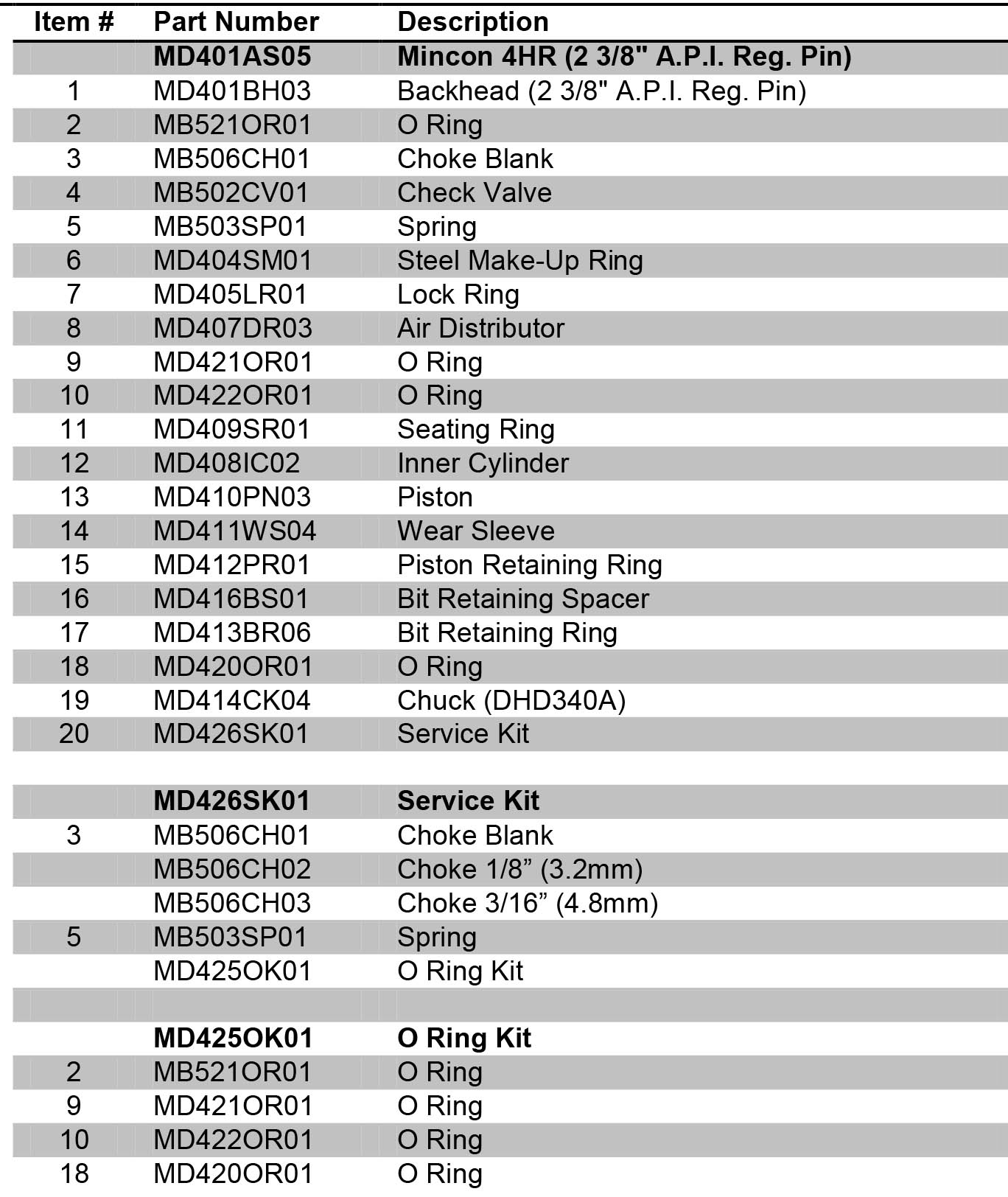 2.5.3 Mincon 4HRSD DTH Hammer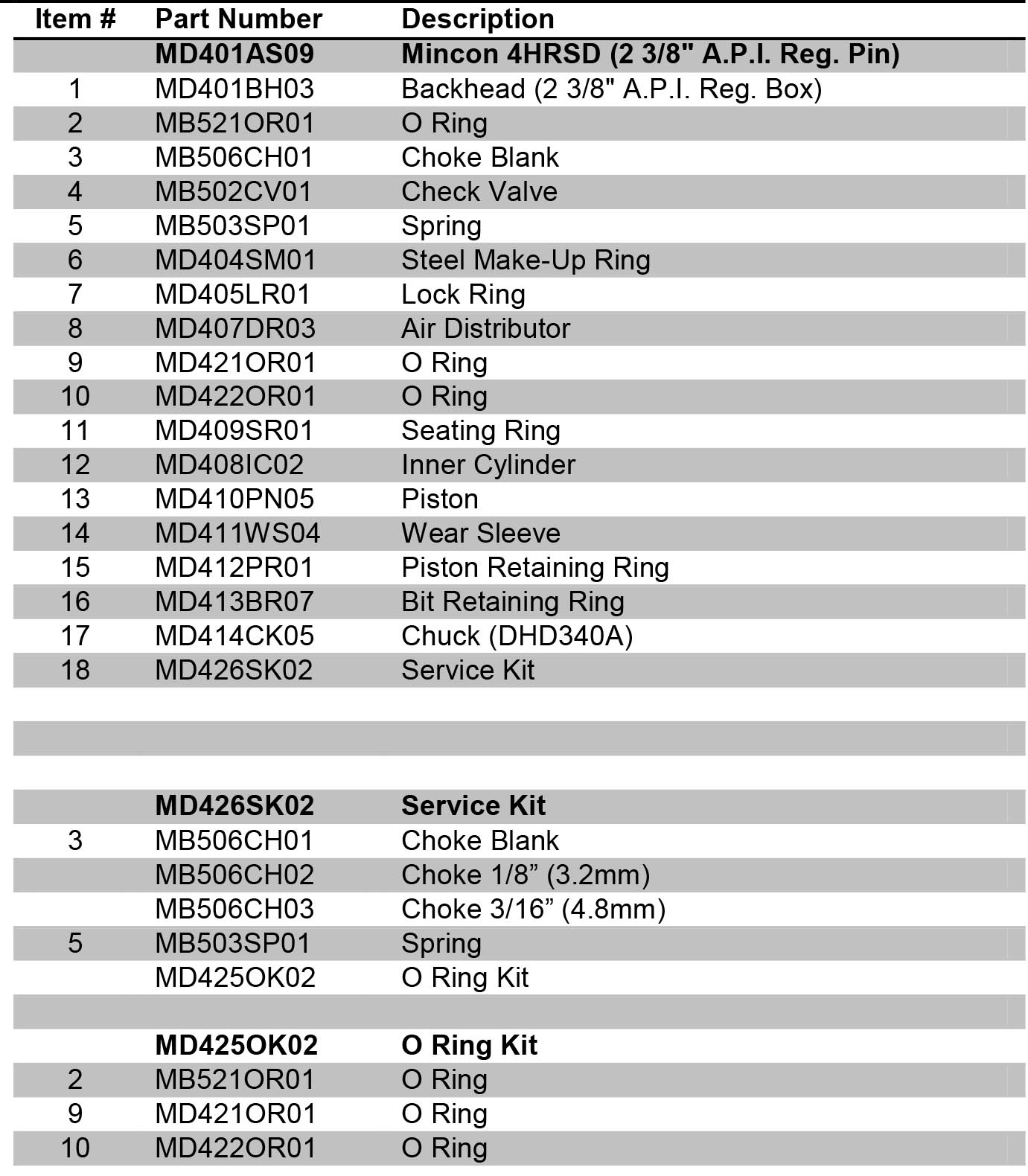 2.5.4 Mincon 4HRTD DTH Hammer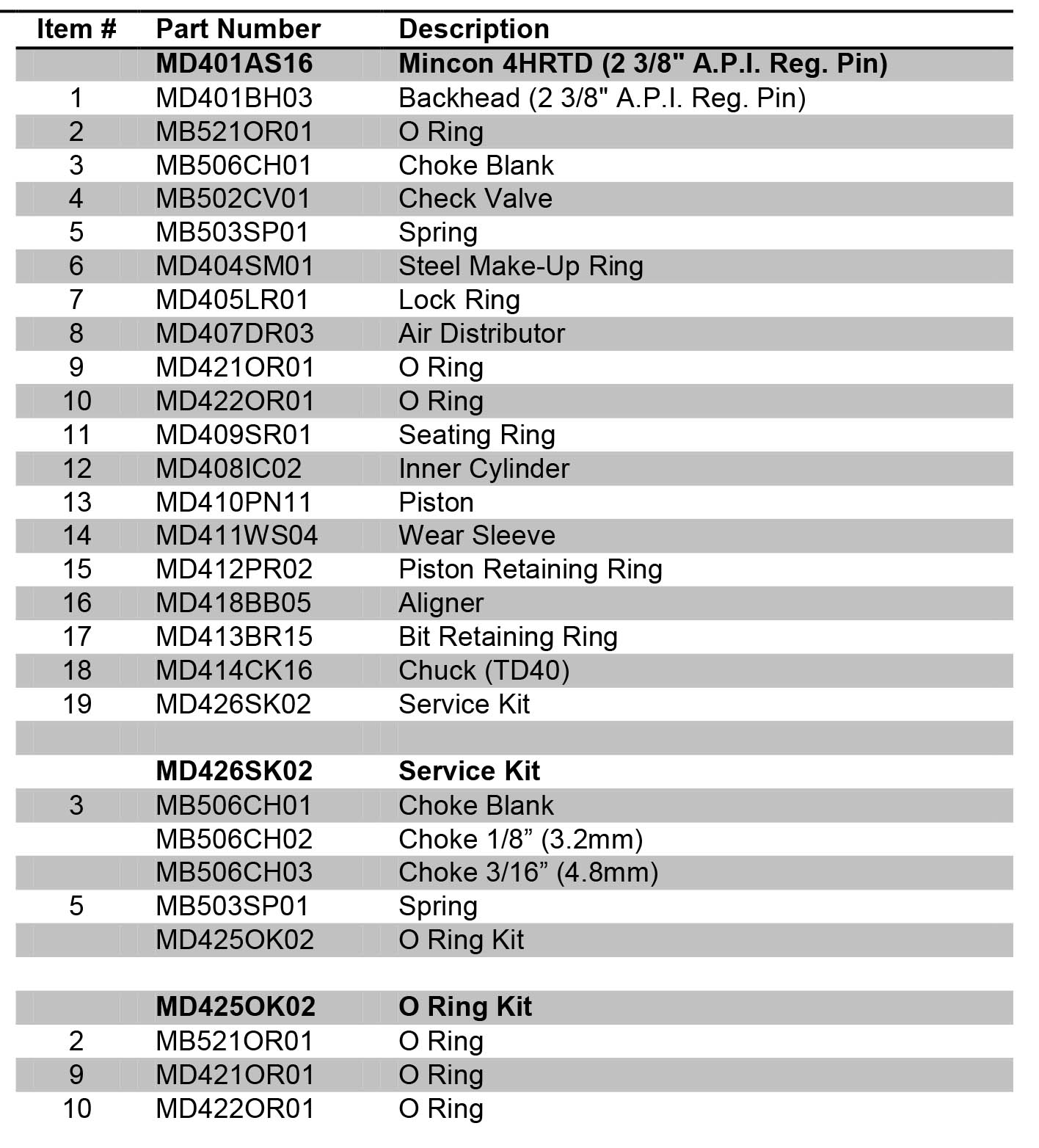 2.6 5" Range
2.6.1 Mincon MP50 DTH Hammer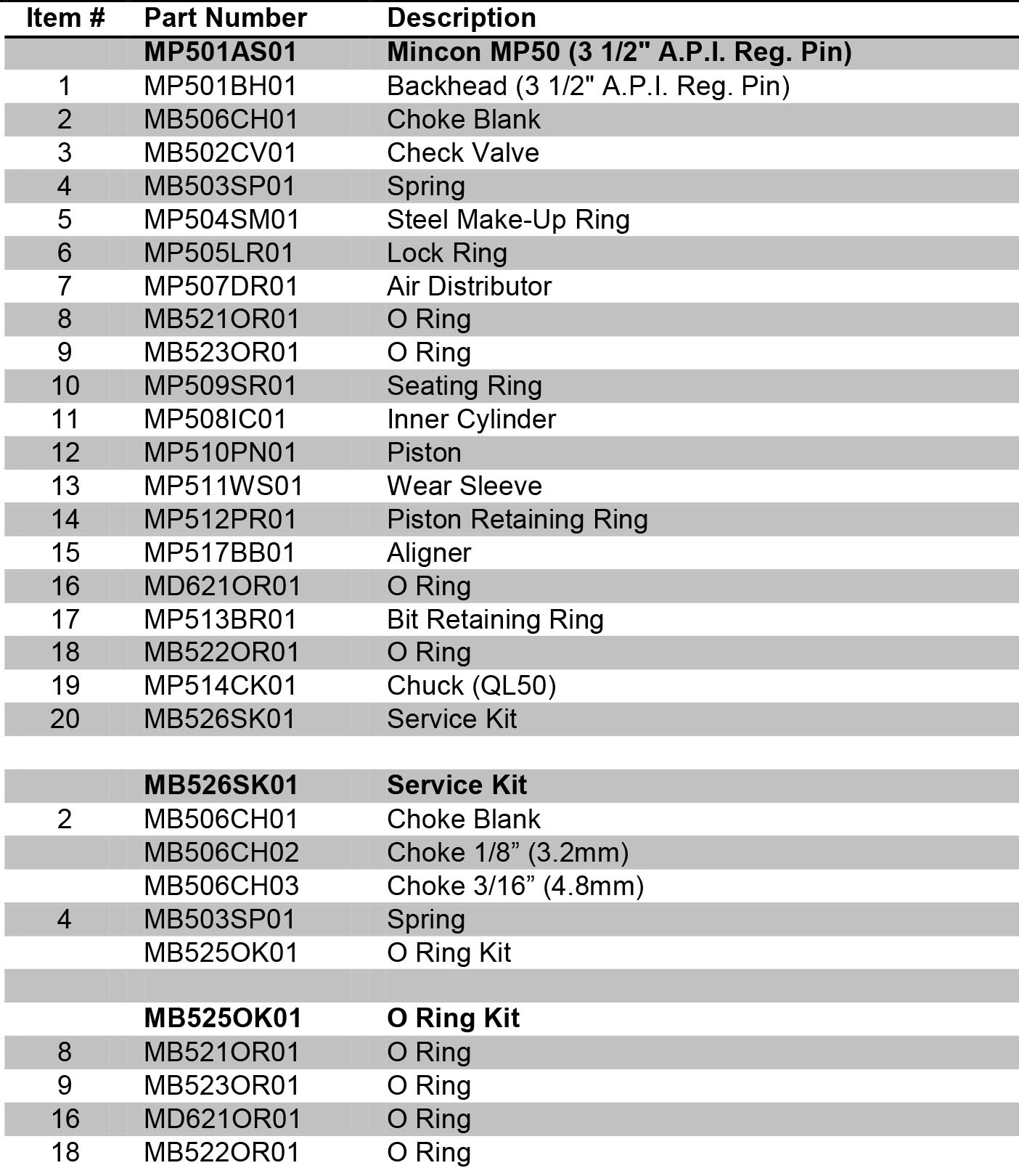 2.6.2 Mincon MP55 DTH Hammer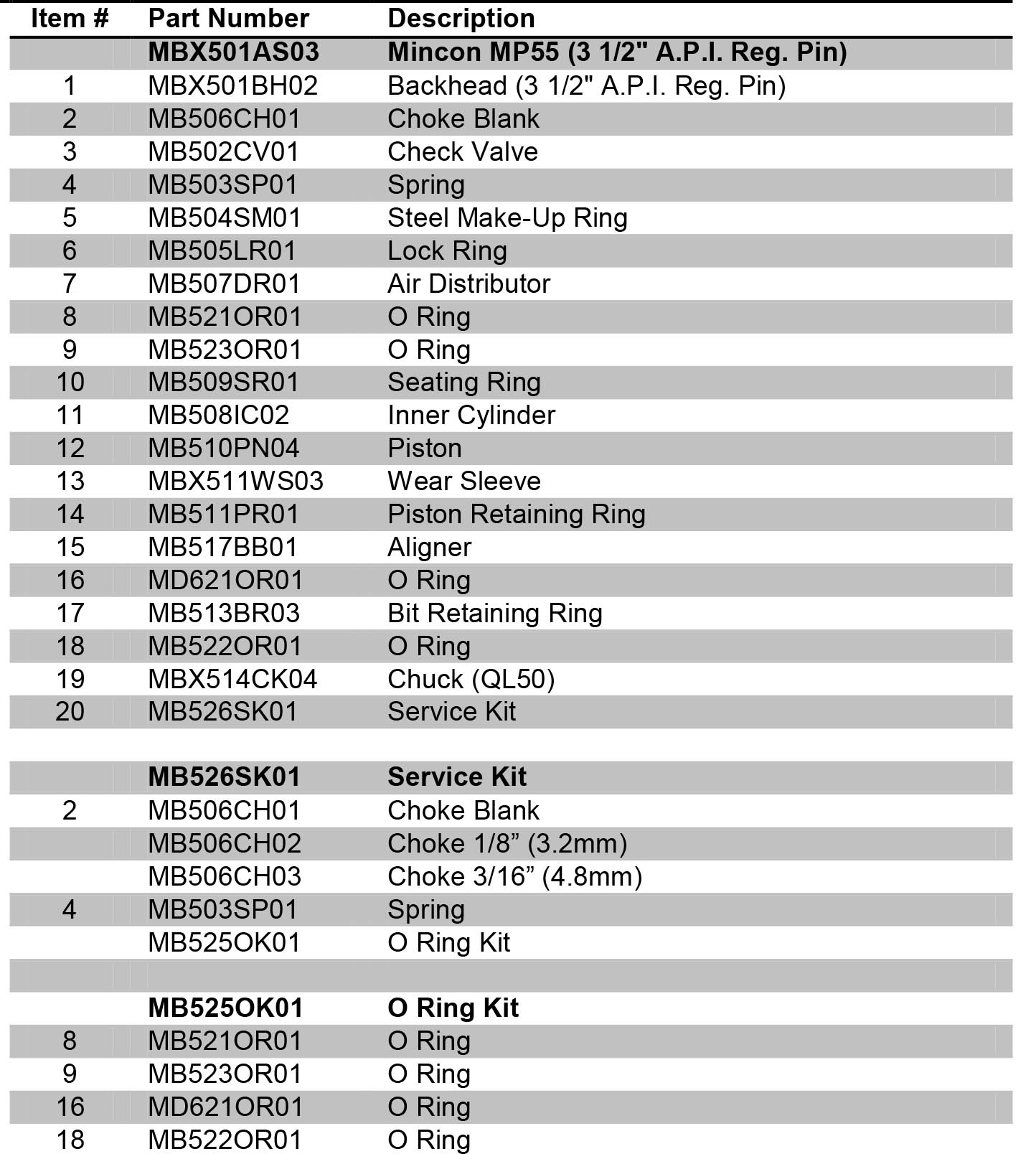 2.6.3 Mincon MP55SD DTH Hammer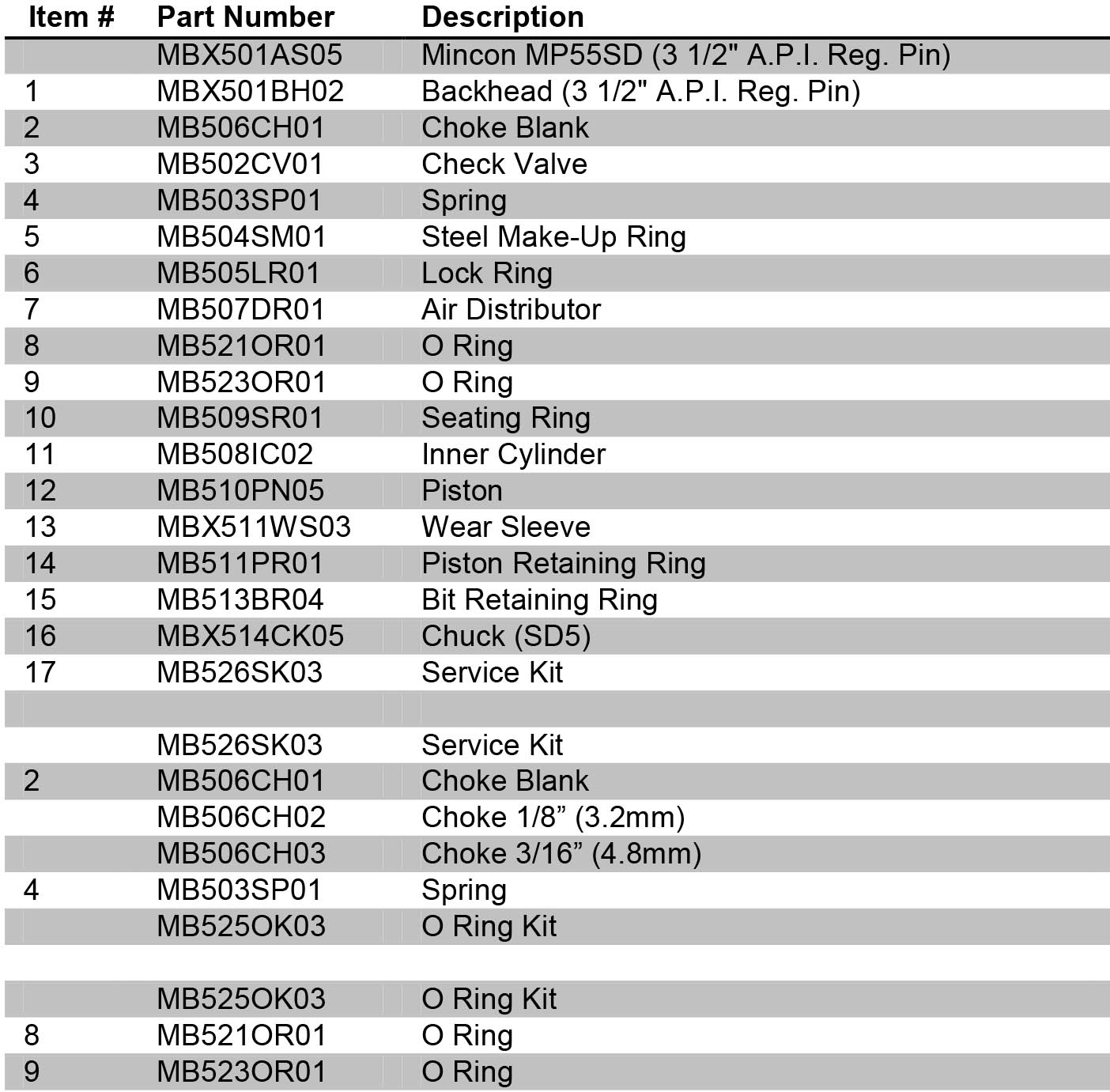 2.6.4 Mincon 5DHQL DTH Hammer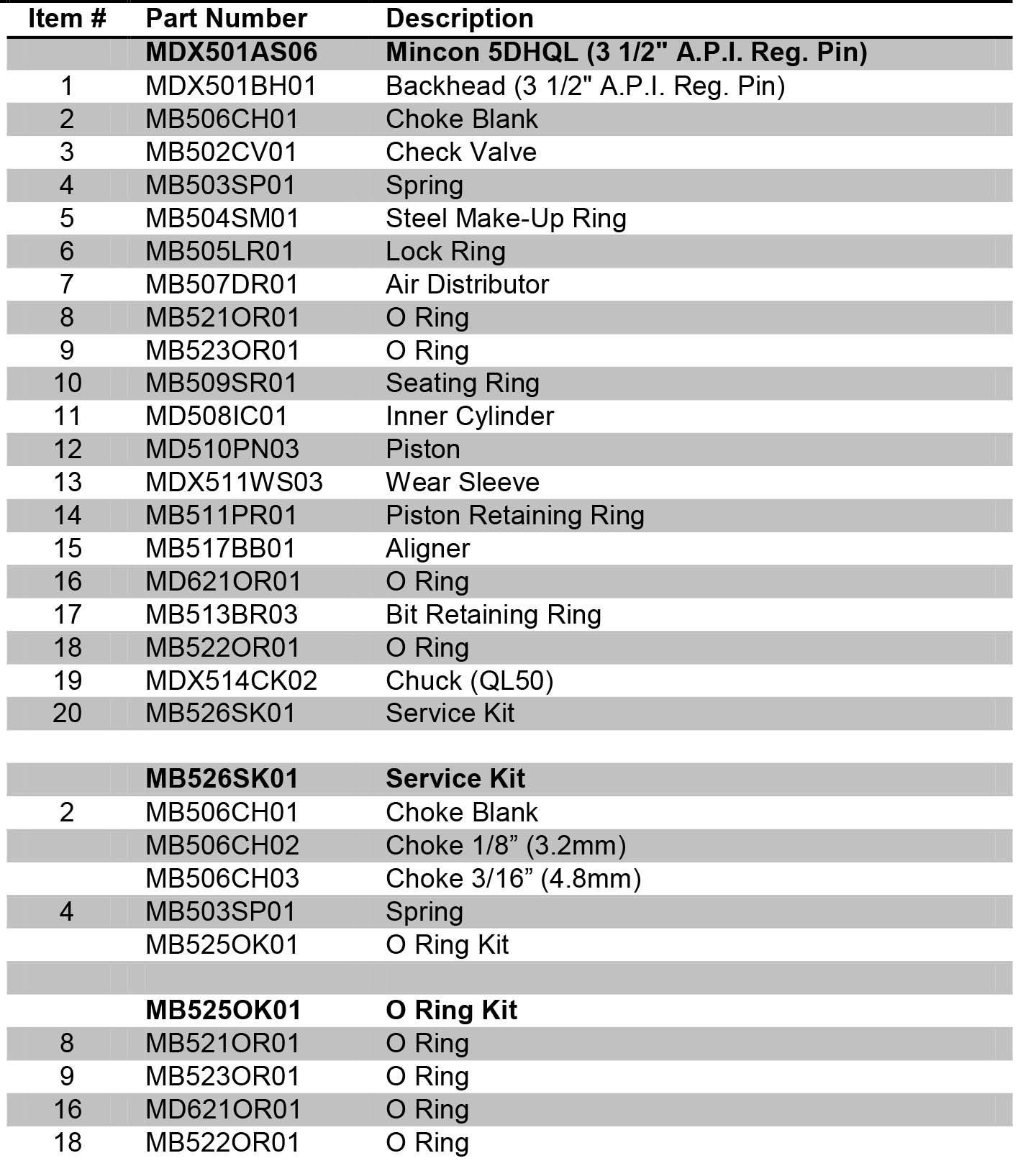 2.6.5 Mincon 5DH DTH Hammer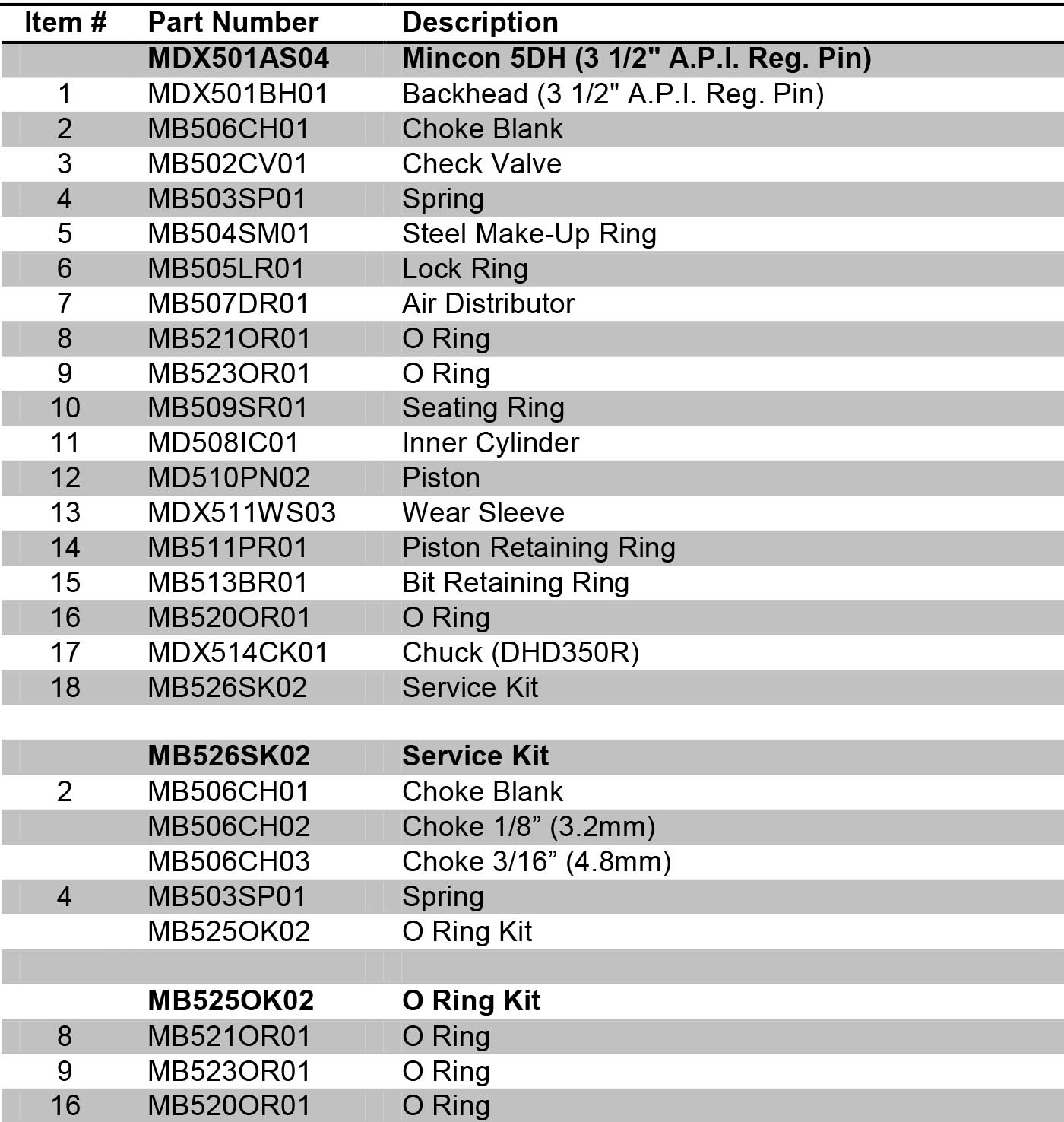 2.6.6 Mincon 55BH DTH Hammer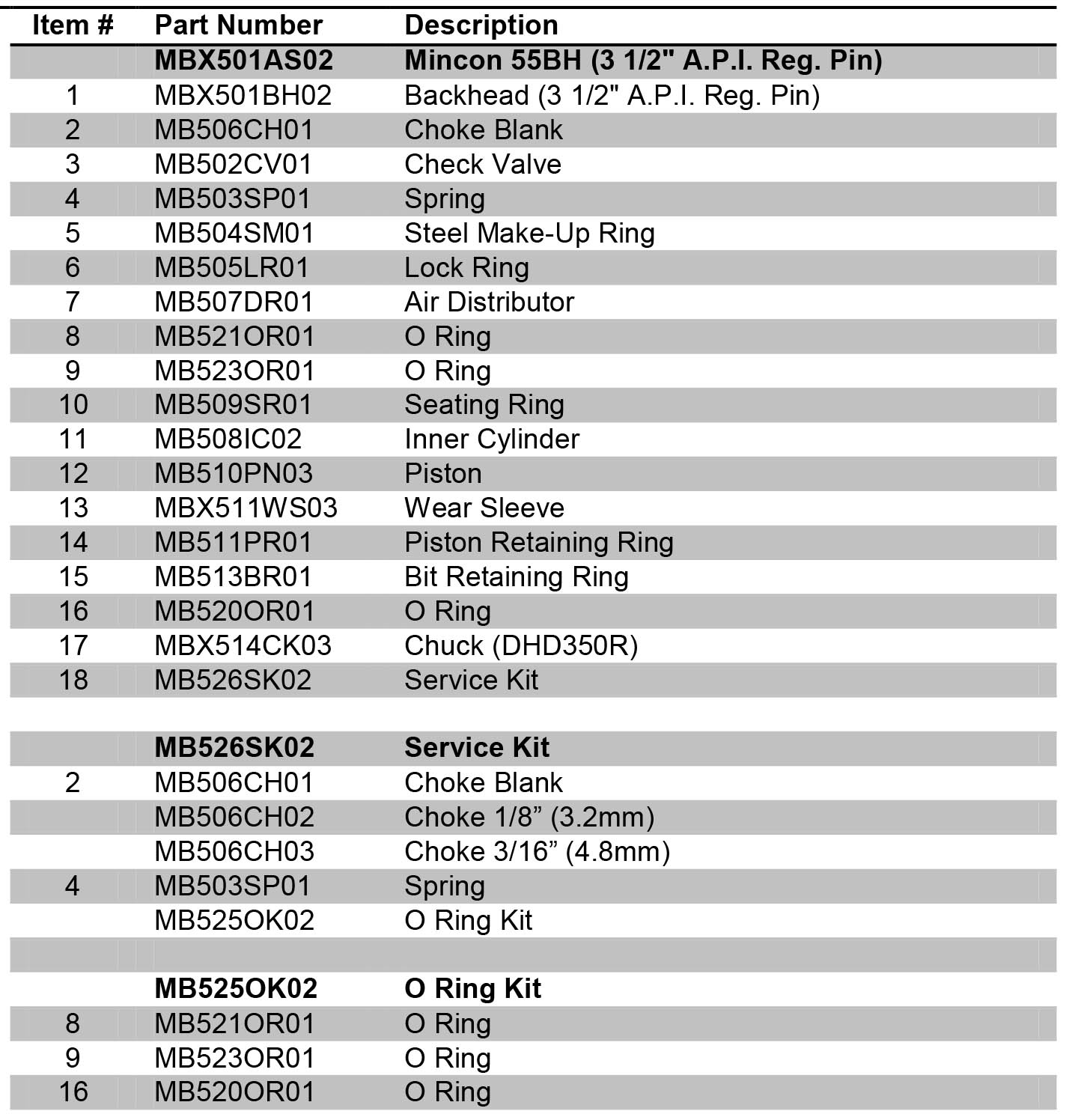 2.7 6" Range
2.7.1 Mincon 6DH DTH Hammer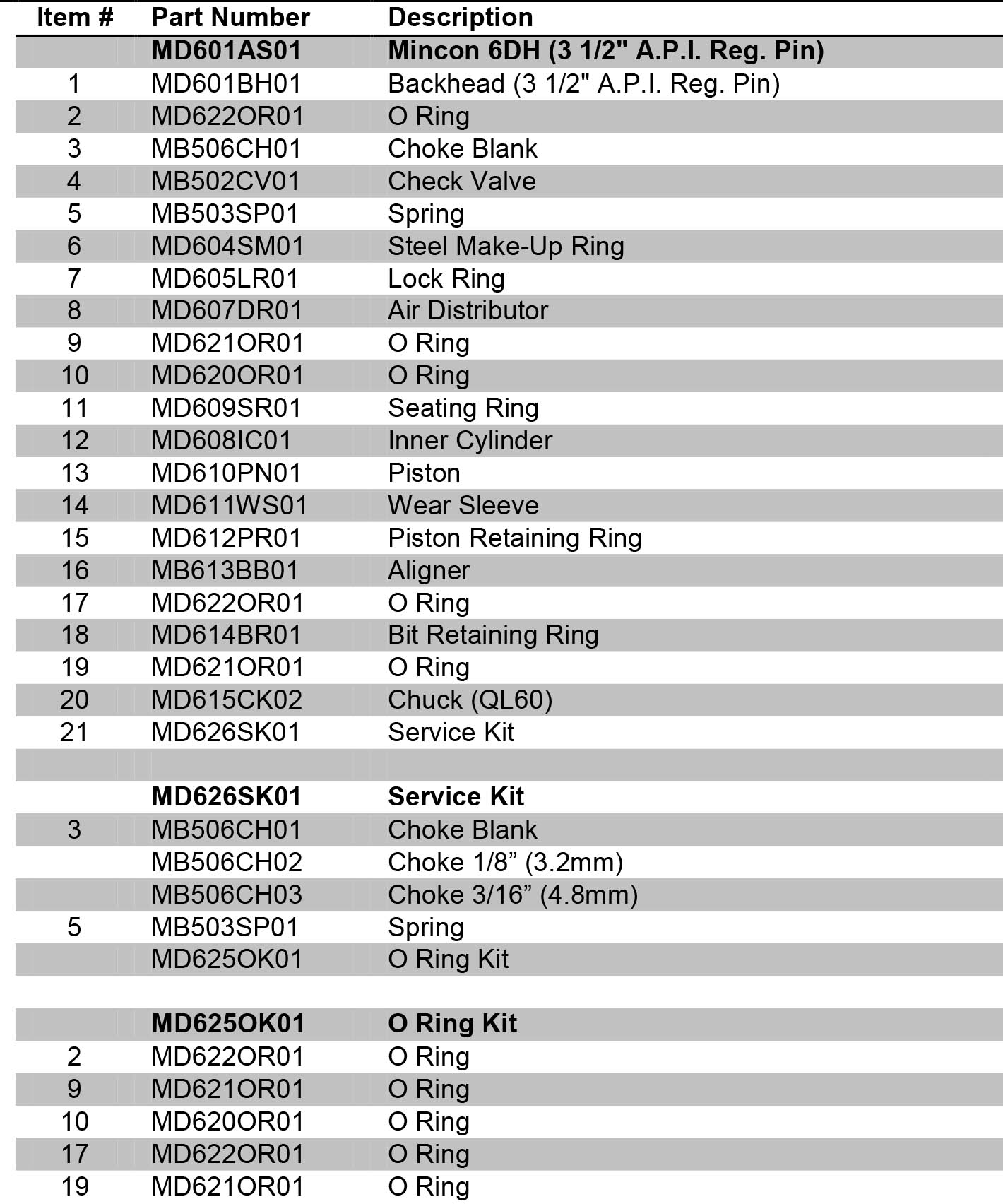 2.7.2 Mincon 6DH360 DTH Hammer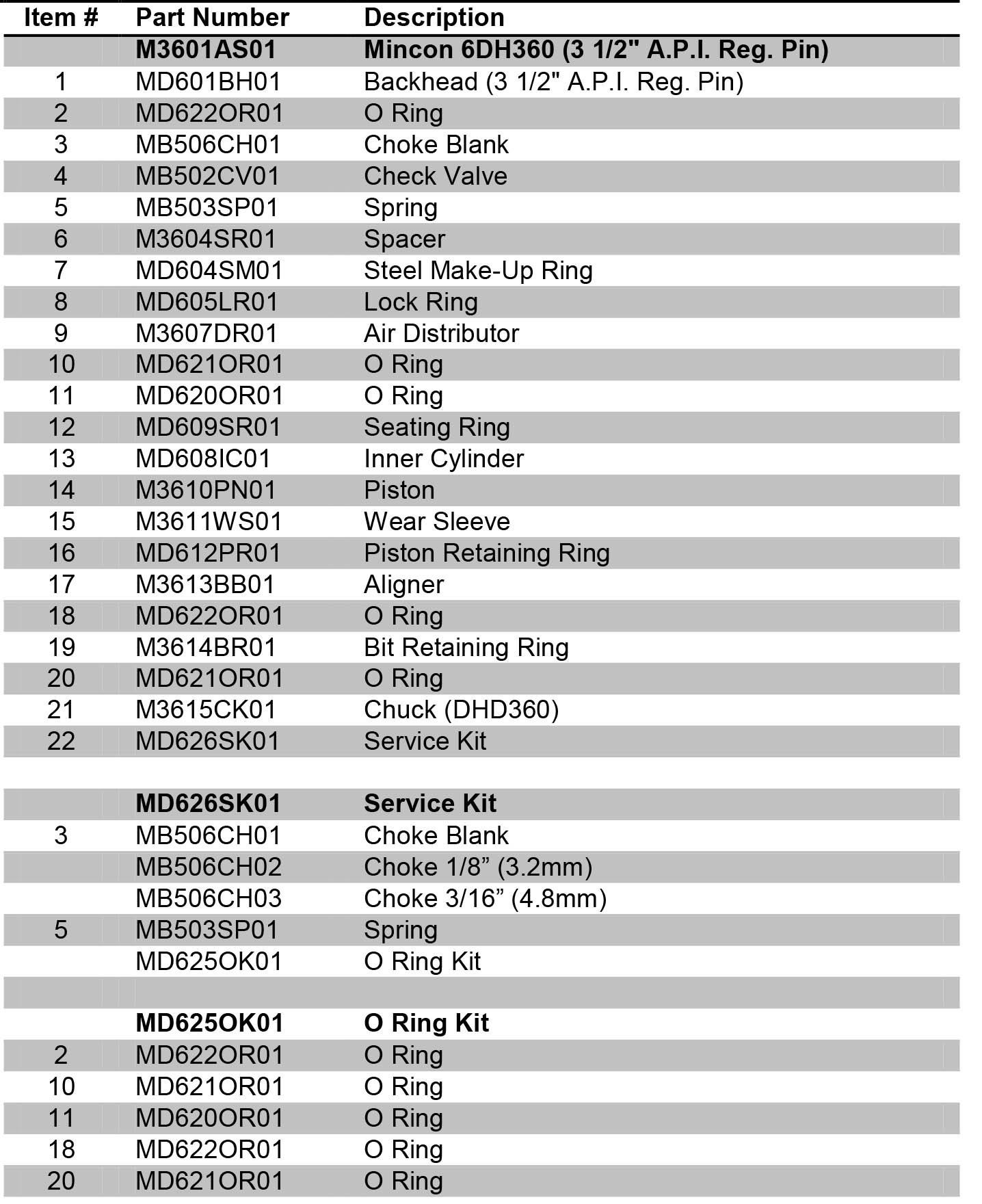 2.7.3 Mincon 6DH-LV DTH Hammer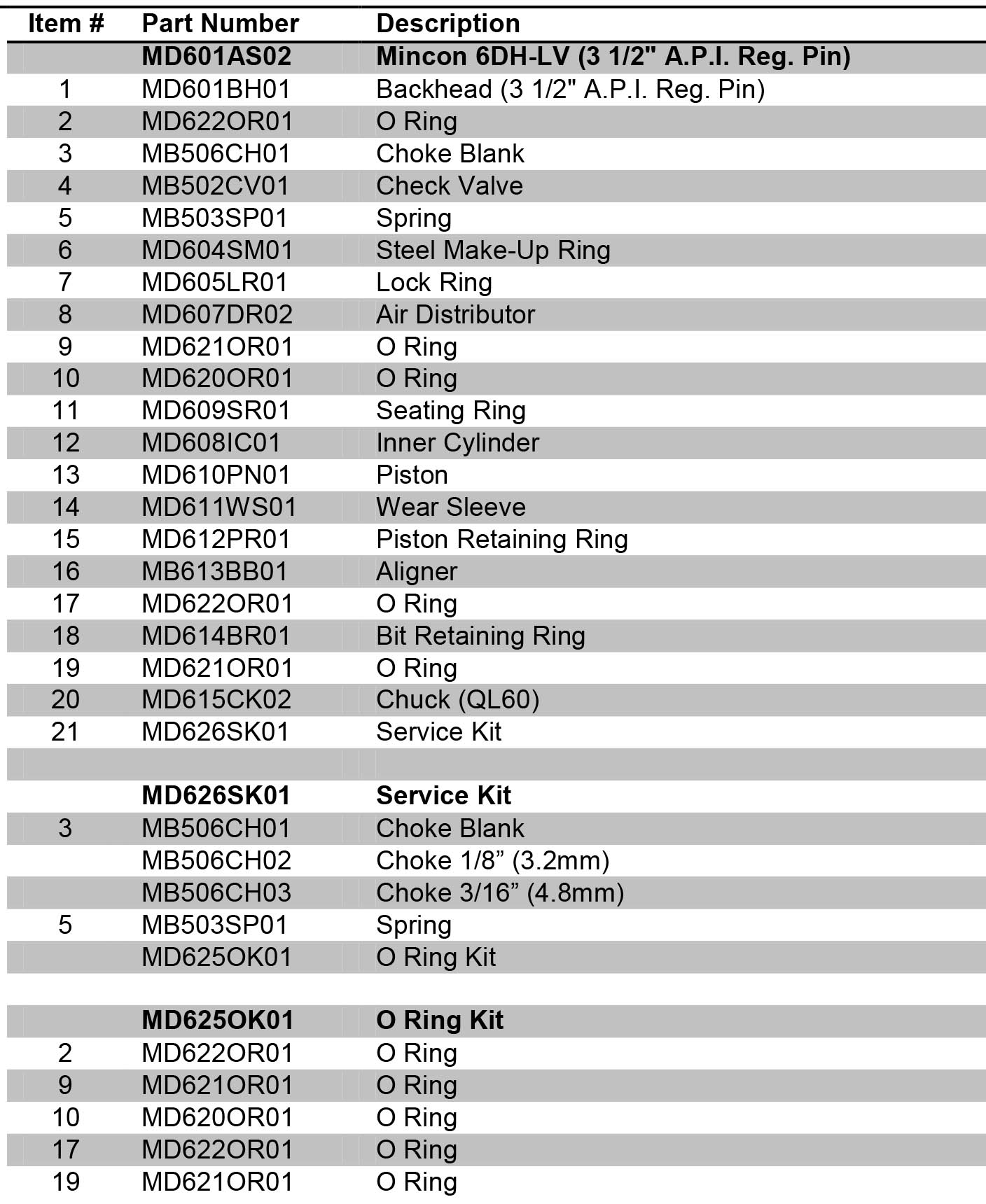 2.7.4 Mincon 6DHSD DTH Hammer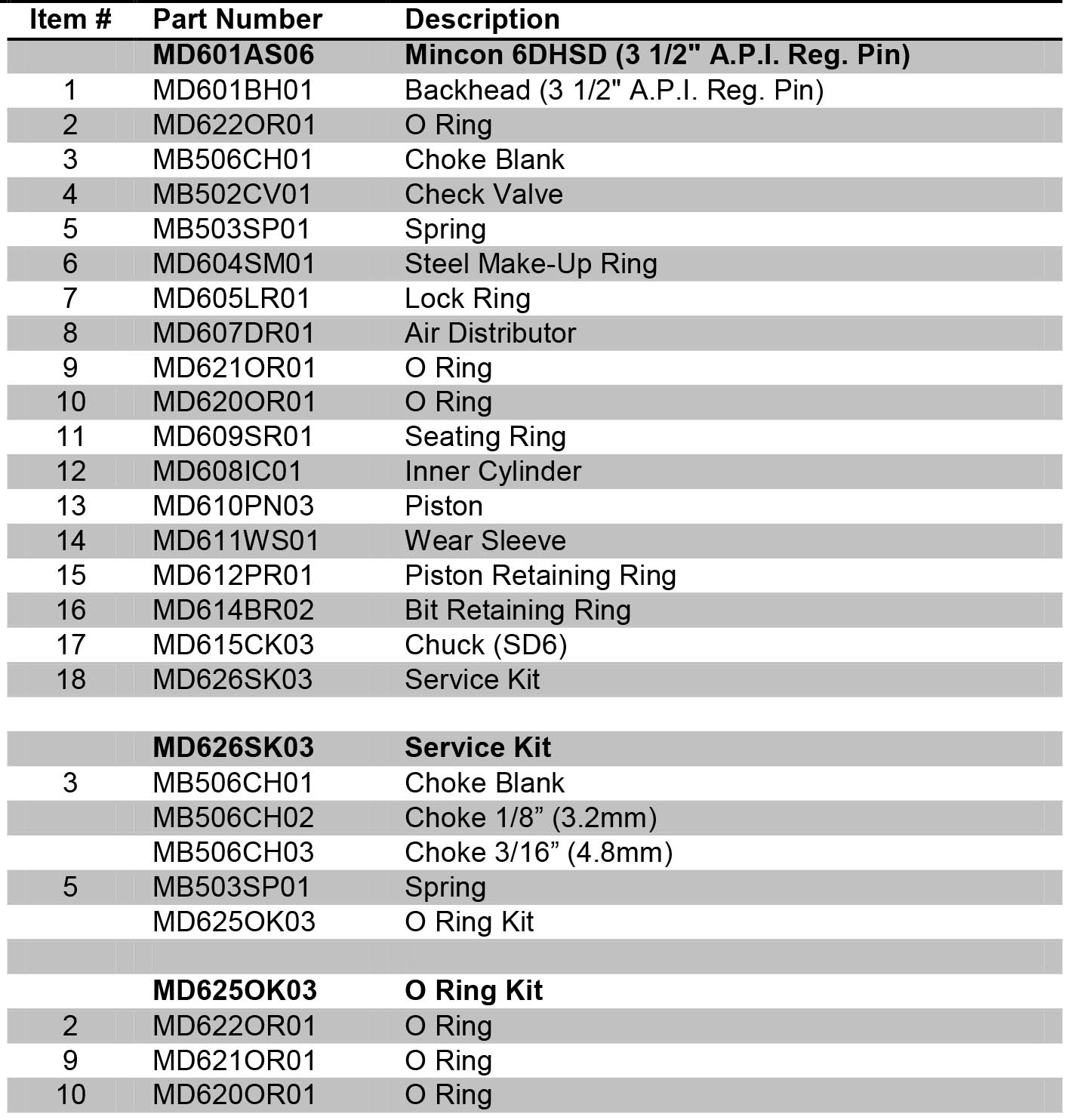 2.7.5 Mincon 6BH DTH Hammer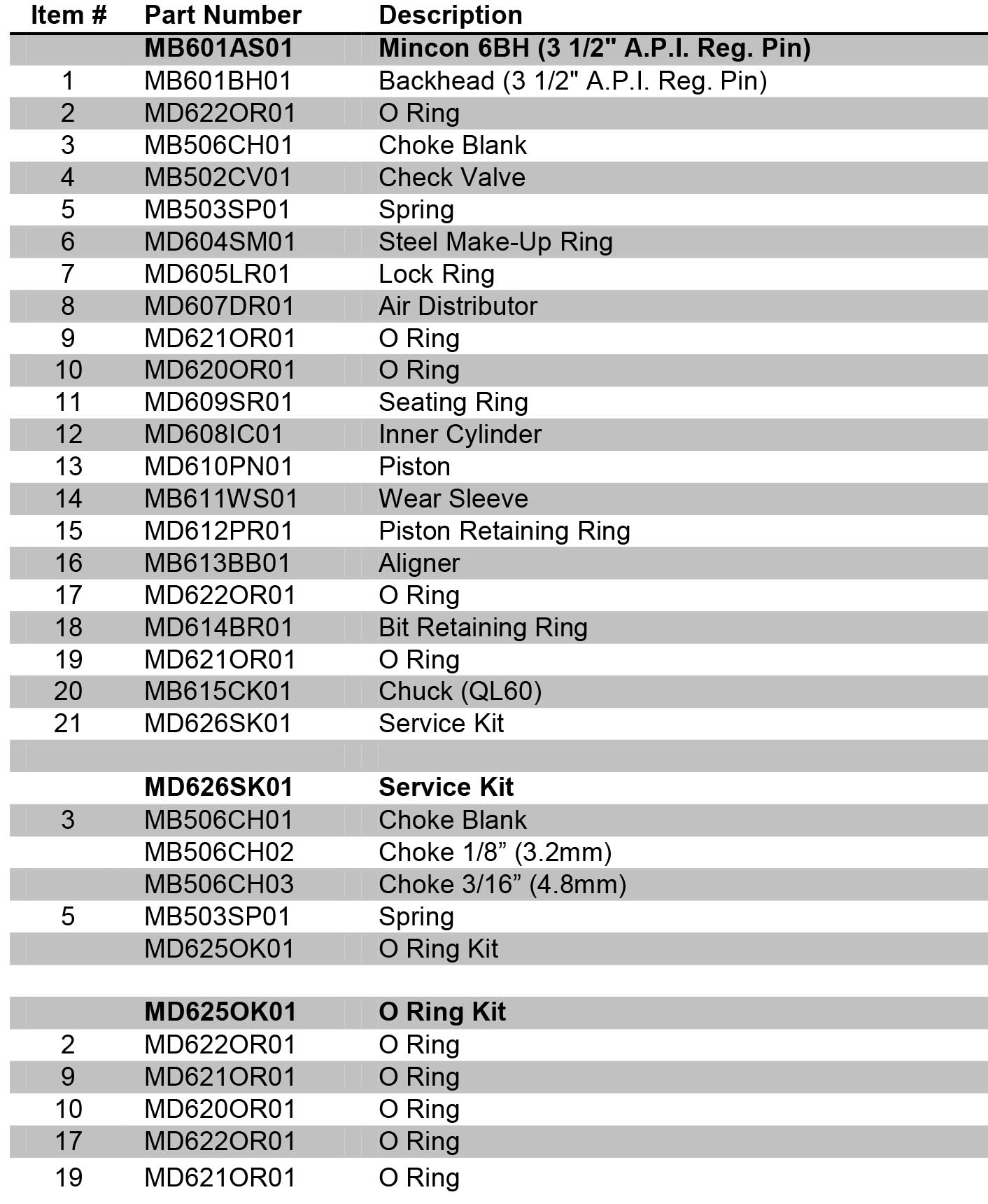 2.8 8" Range
2.8.1 Mincon 8DH DTH Hammer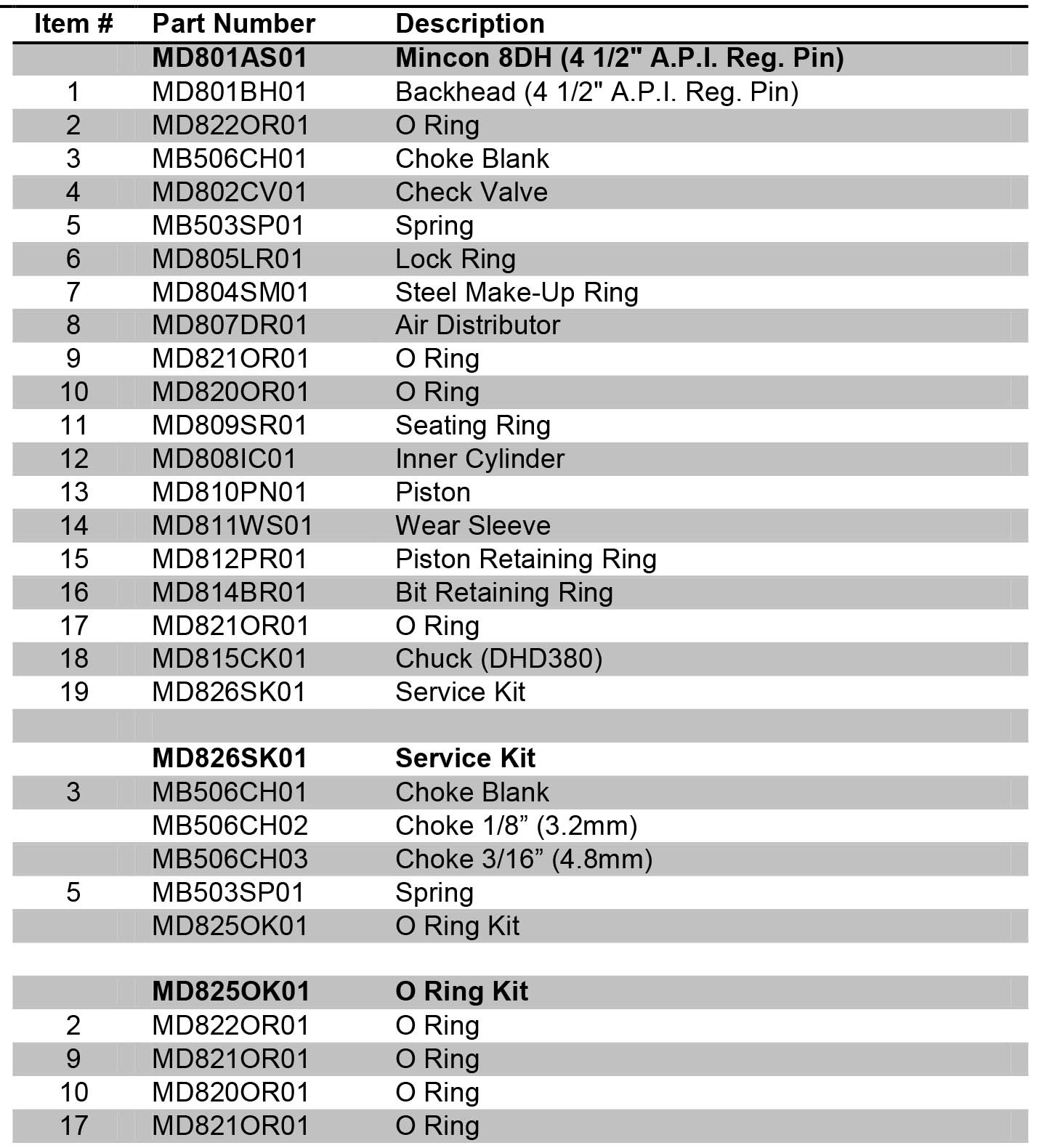 2.8.2 Mincon MP80 DTH Hammer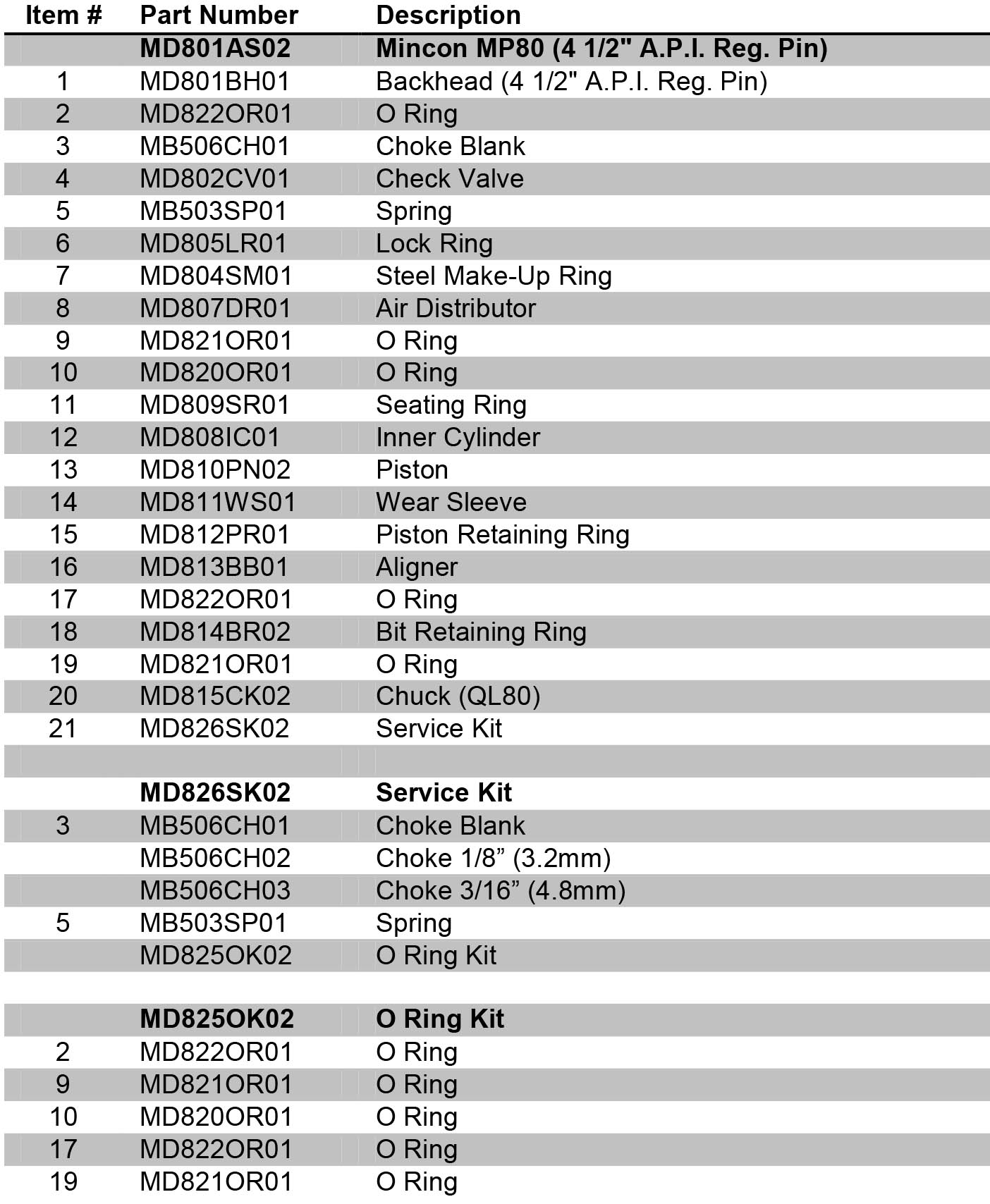 2.8.3 Mincon 8DHSD DTH Hammer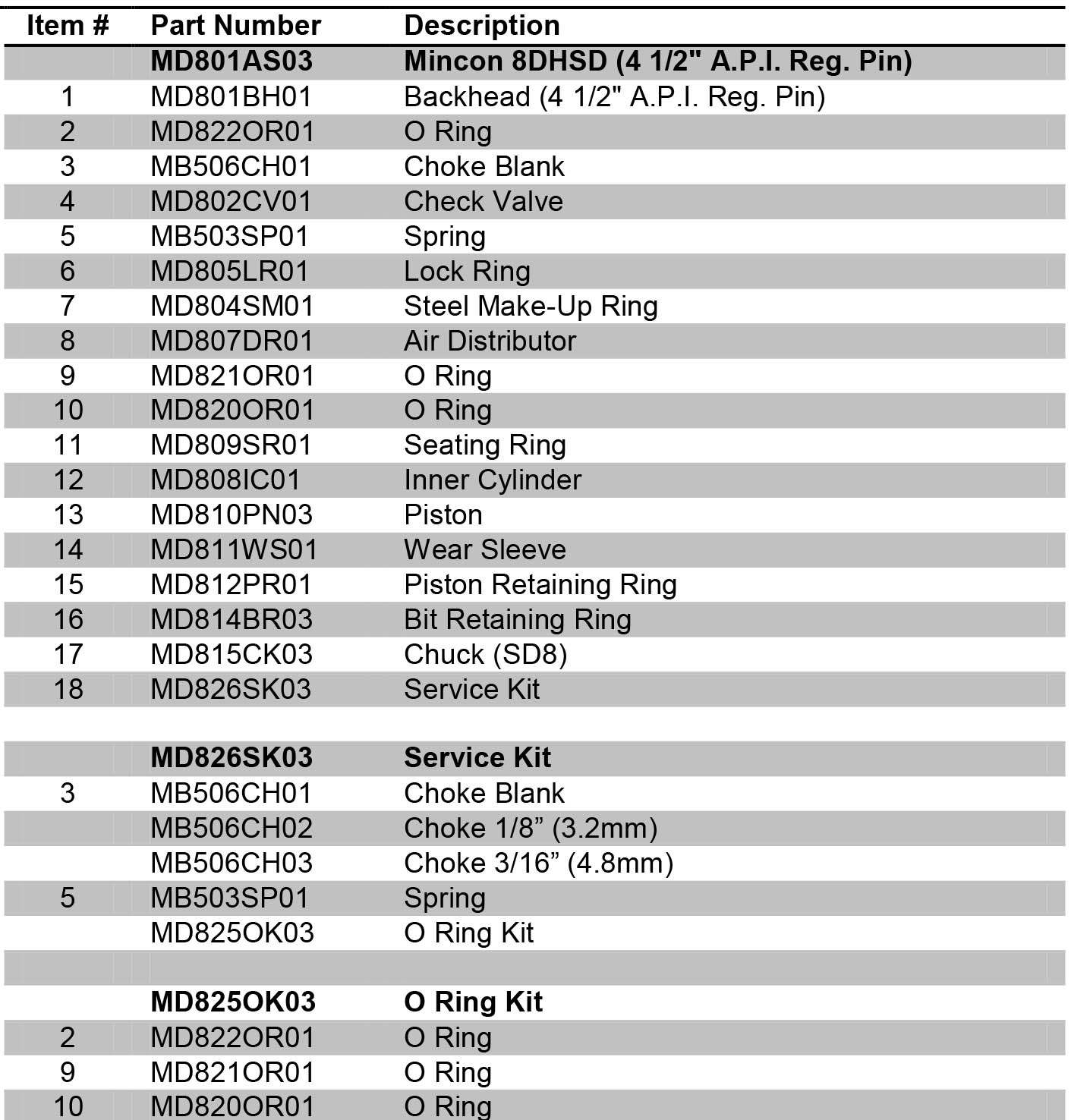 2.8.4 Mincon MP85 DTH Hammer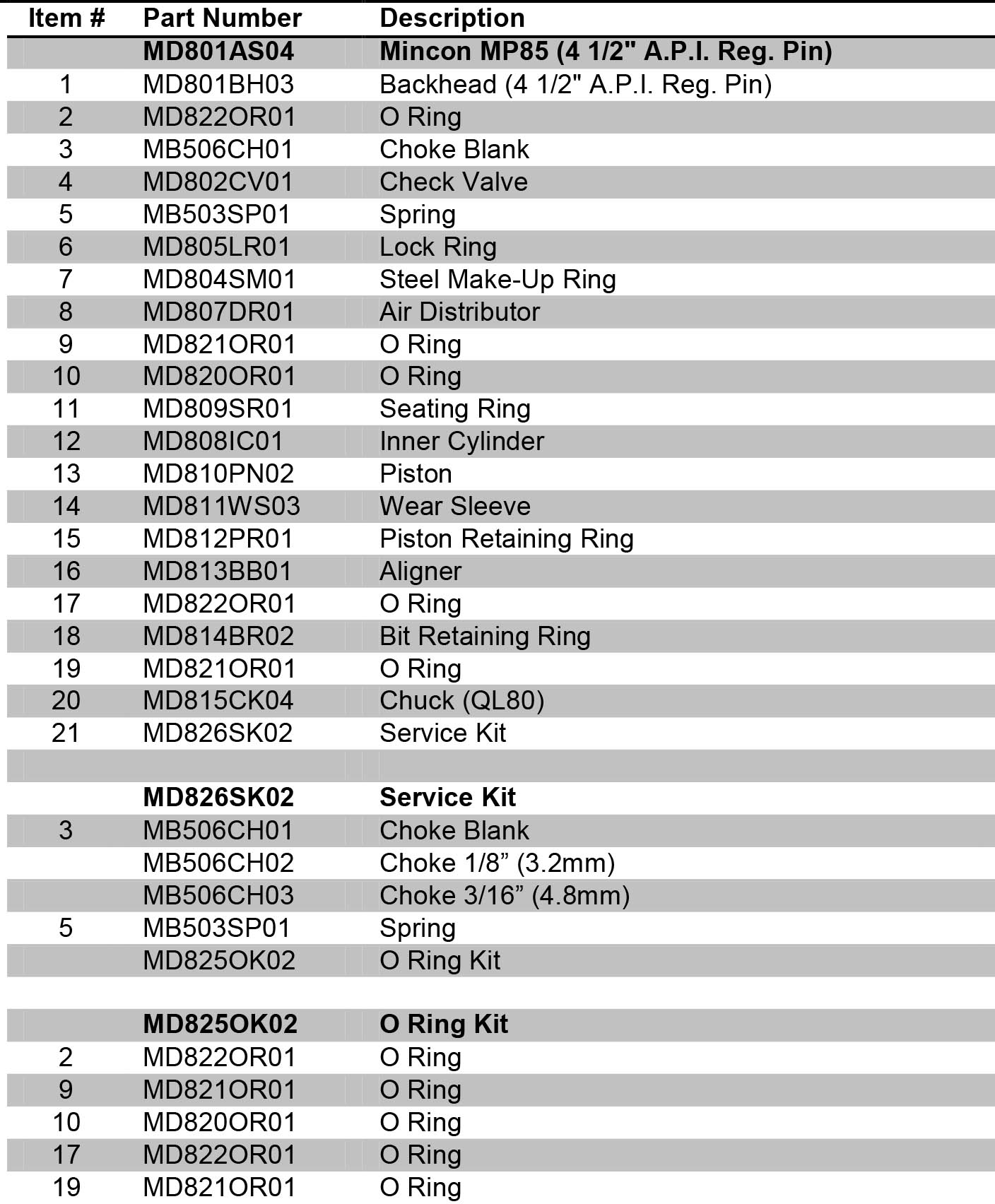 2.9 12" Range
2.9.1 Mincon XP120SD DTH Hammer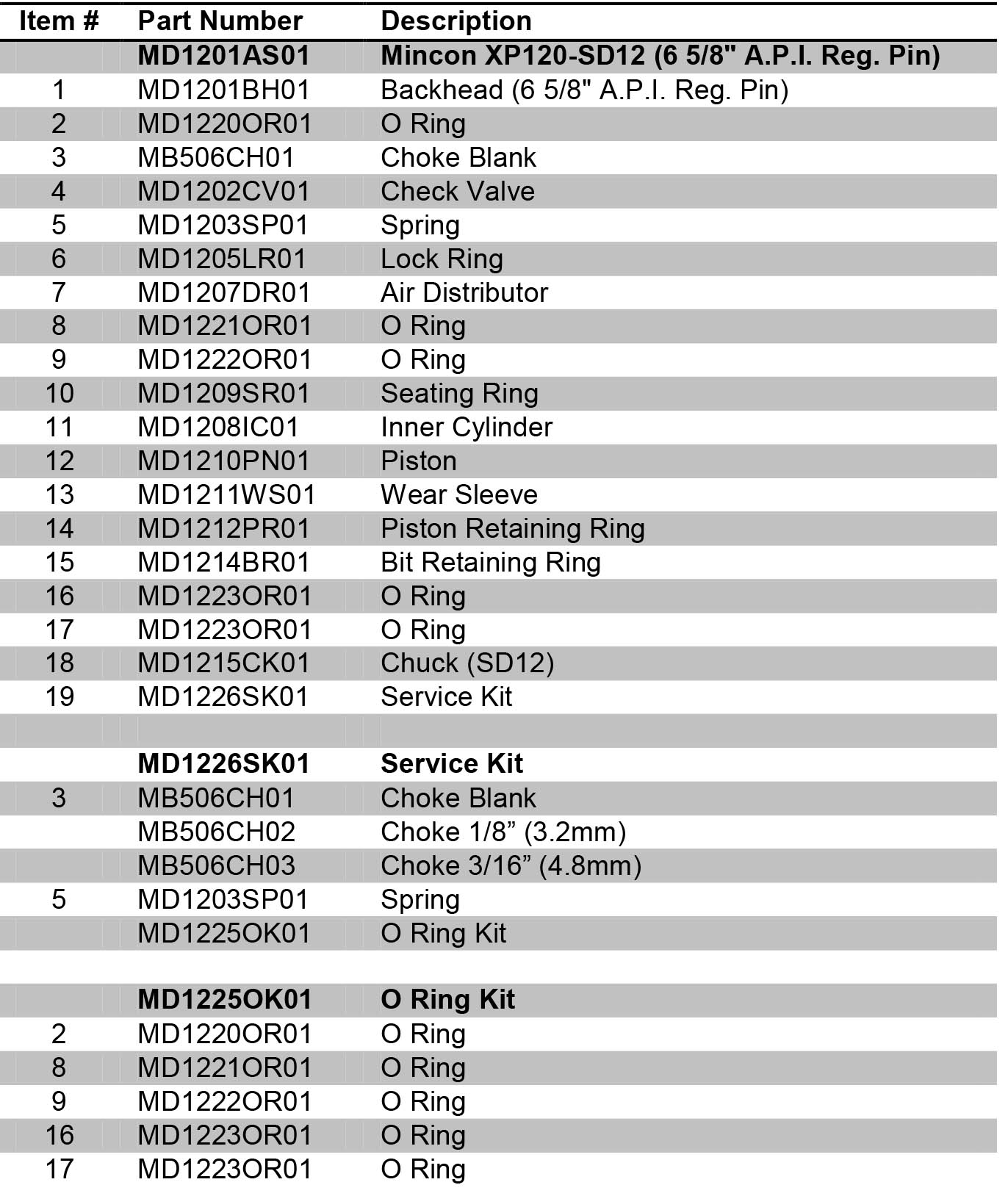 2.9.2 Mincon XP120QL DTH Hammer

Mincon hammer rebuild kits
Replacing the external wear components of a DTH hammer can prove to be a very economical exercise. The internal components of Mincon hammers are manufactured to the highest standards and with the correct lubrication and care can be used multiple times by rebuilding the hammer when drilling in hard, abrasive drilling conditions. The rebuild kit contains the backhead, wear sleeve, chuck, lock ring and O ring kit. The part number for the rebuild kit is the same as the hammer with the AS replaced by RB. The following sections give the most popular rebuild part numbers.

3.1 3" Rebuild Kits



3.2 4" Rebuild Kits




3.3 5" Rebuild Kits


3.4 6" Rebuild Kits




3.5 6" Heavy Duty Rebuild Kits




3.6 7" Rebuild Kits




3.7 8" Rebuild Kits
Mincon DTH drill fits
4.1 Choosing the Right Drill Bit
The drill bit is at the business end of the drilling process and ensuring you choose the right drill bit for job is vital to complete the work at the lowest cost per meter possible. Mincon Technical Sales Representatives can aid in this process by evaluating your drilling conditions, hole size, hole depth, equipment, and environmental conditions such as altitude, temperature and relative humidity. Where appropriate, Mincon Engineers can specifically tailor a drill bit design to suit the particular conditions you encounter. Double gauge row carbides can be used in the case of hard rock drilling conditions to offer better penetration rates and gauge row protection. Three exhaust hole configurations can be used where excessive body wear is experienced and different heat treatment processes can be employed to best suit the ground conditions and wear patterns experienced.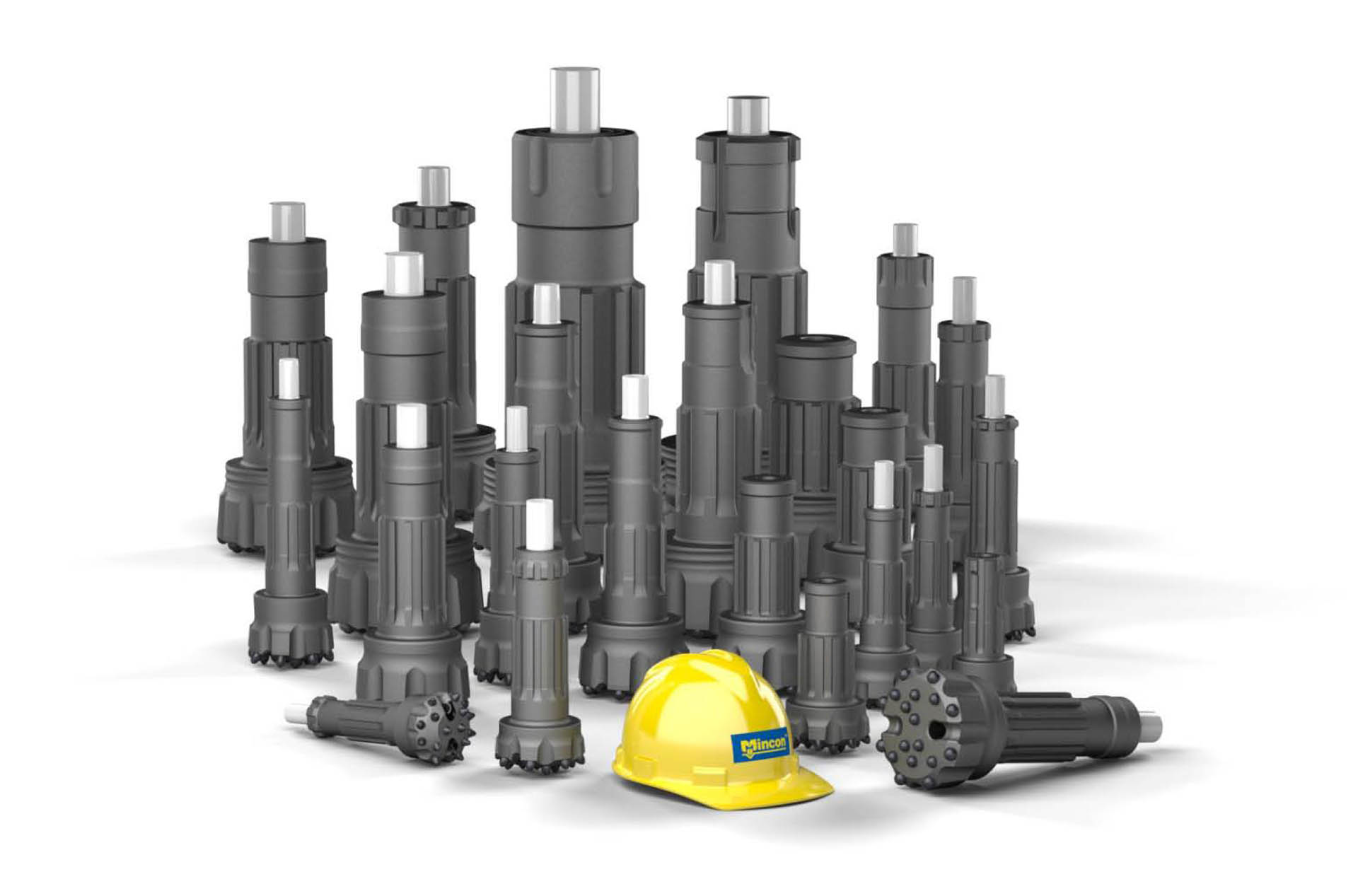 The following shows the three face designs provided within the industry and describes their main attributes and possible drawbacks. Within each design there can be multiple options to suit your particular needs.
Face Designs
The concave bit design is an excellent all around bit, suitable for soft and hard formations.
The cone shaped face design provides good stability during drilling, allowing for straighter holes while reducing equipment vibration.
The carbide configuration gives added penetration in many formations.

Suitable for most drilling applications, particularly hard, abrasive rock to give a combination of speed and good service life.

Used for general purpose drilling, the flat face design is considered effective in very broken ground as well as hard formations and softer formations that tend to over drill.
Drilling fluids
5.1 Mincon Envirosafe Rock Drill Oil
Mincon Envirosafe RDO is a high performance, environmentally safe rock drill oil. It is a unique lubricant developed for all sizes of DTH hammers, to reduce wear and improve performance. Mincon Envirosafe RDO can be used in all in-line lubricators and has proprietary lubricating compounds that are resistant to being washed off in acidic water, salt water, and foam environments, thus reducing rust on the internal and external parts of the hammer even after the equipment is not in use. It creates a lubricant film on the internal parts that prevents piston scuffing and heat build-up. Wear of internal hammer parts is reduced dramatically increasing the life of your hammer and rate of penetration which increases your profitability. Mincon Envirosafe RDO reduces the potential of surface or groundwater environmental concerns during mining production, mineral exploration, horizontal directional drilling, quarrying, and water well drilling. It has a viscosity that allows the lubricant to flow freely to areas requiring lubrication and also removes the requirement to switch between heavy and light oil as the seasons change. Lubrication can be better controlled and consumption reduced when using Mincon Envirosafe RDO. Mincon Envirosafe RDO is an environmentally safe, biodegradable product that lubricates more efficiently than conventional Rock Drill Oils while reducing contamination of surface and groundwater. Particularly suited for drilling uncontaminated water wells and monitor wells in sensitive areas such as adjacent to streams and lakes, or where groundwater protection is important. Mincon RDO is available in 5 Gallon pails (18L), 55 Gallon drums (205L), 1000L and 1200L IBC Totes.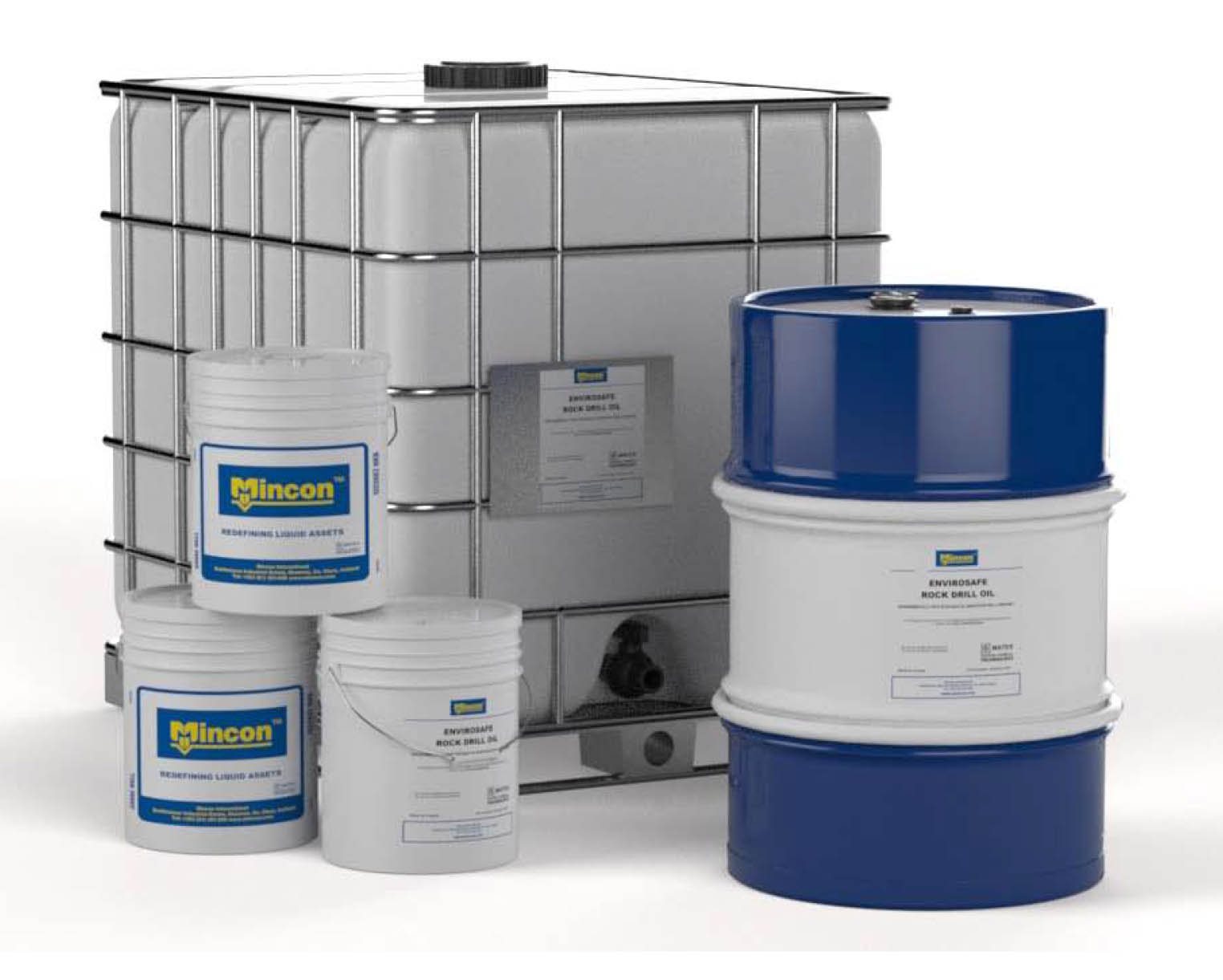 5.2 Mincon Hole Control
Mincon Hole Control is a unique cost saving fluid formulated to speed up hole collaring, reduce collar sloughing and stabilize the bore hole. Hole control can be used with air-rotary tri-cone, down the hole hammers and all types of top hammer drills (surface and underground). Mincon Hole Control reduces re-drilling of a borehole, due to hole collapse or transference between adjacent bores through cracks and voids in the rock. It aids in eliminating regrinding of cuttings, thus creating bigger chips for sampling purposes and increasing penetration rates. Using Mincon Hole Control leaves a sticky, neatly stacked cuttings pile that is not prone to sloughing prior to loading the hole. It acts as a dust suppressant and reduces wind-blown fines. Hole Control allows blast holes to be fully loaded, helping to optimize blasting operations and creating a clean smooth floor. Mincon Hole Control speeds up borehole collaring, thereby increasing production. The approximate mix ratio to achieve tank mix suitable for most drilling and borehole conditions is approximately 1-2 quart(s) of HOLE CONTROL to 250 US gallons of water (or 1-2 Liter(s) of HOLE CONTROL to 1000 Liters of water). Naturally acidic water sources will require more Hole Control additive to achieve the required viscosity.
5.3 Mincon Envirosafe Foamer ES

Mincon Envirosafe Foamer ES an environmentally acceptable foaming agent to be used in mineral exploration, oil and gas exploration and water well drilling operations. It has also been used as a drilling aid for monitoring wells. Mincon Envirosafe Foamer ES has an excellent half-life comparable to the leading foams on the market. It develops immediate tight foam (compact bubbles) with good lifting characteristics. Mincon Envirosafe Foamer ES can be enhanced by the addition of Mincon Hole Control to create significantly stiffer foam if required. The suggested dosage under normal drilling onditions is 0.5% – 1.0% by volume and 2.0% – 3.0% by volume when there is excessive water influx. Dosages will depend on chemical make-up of the drilling water, volume of water used, and the depth of the hole.

Service & Support
Mincon is committed to providing world class service and support to ensure our customers receive the full benefit from their Mincon products. Mincon continues to grow its global business substantially by ensuring that Mincon drilling tools consistently compete at the highest end of the market for performance, reliability and longevity. Mincon has strategically located sales and service centers staffed with high calibre employees with a strong knowledge of local market needs and requirements. Mincon are very aware of the need to work closely with our customers to ensure their success. It is only through our customers' success that Mincon is successful and this is at the heart of Mincon's philosophy of making the customer the focal point of everything we do. Today the major focus in is towards significantly reducing the cost of operations. When Mincon engages with a new customer we focus our A.I.M. on their operations. We Assess, Implement and Monitor. We Assess the current operations by performing a complete review of the drilling operations to understand their needs and take their unique circumstances into account. We evaluate their existing drill machines, analyze the environment (altitude, temperature, relative humidity) they operate in and study the current tooling wear patterns. Once completed together with the customer we decide on the best course of action. With a plan in hand we Implement. We use Mincon Down the Hole (DTH) drilling products that have proven themselves all over the world with both large and small mining companies. We offer the appropriate training where needed and employ industry best practices to maximize productivity, tool life and ensure a safe working environment. Once set up with our products performing at maximum efficiency we Monitor with world class service and support and ensure we are there for all our Customer's needs. We will periodically perform reviews of the drilling operations to make sure that they are still operating at maximum efficiency. Mincon would like to extend an invitation to A.I.M. our focus on your operations and demonstrate the benefits of a strategic partnership with Mincon and together we can maximize your success.
---